Shanghai-Kunming high-speed rail in full operation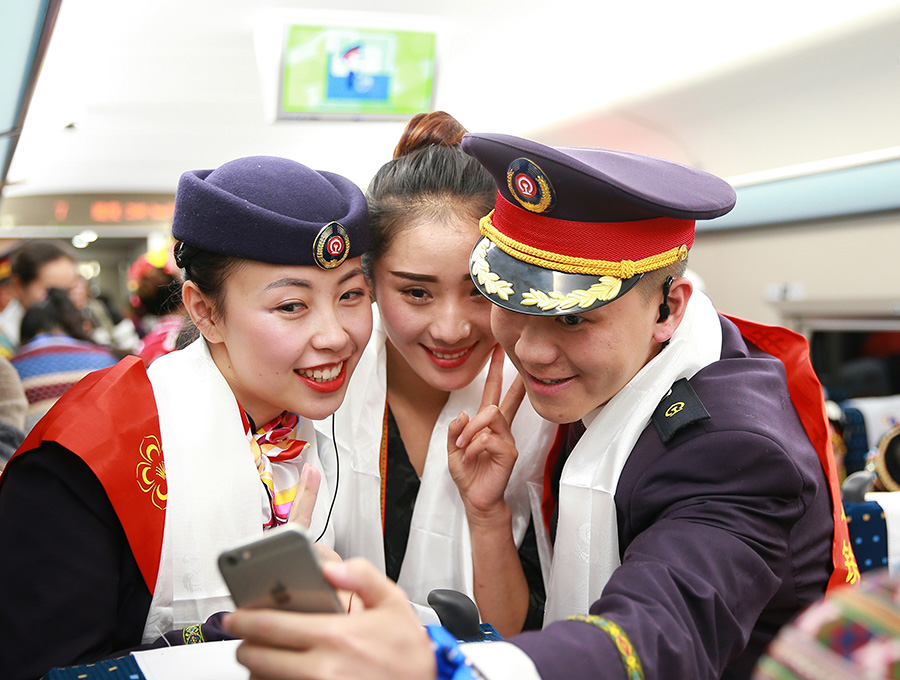 Train attendants take a selfie to mark the full operation of Shanghai-Kunming high-speed rail in Kunming, Southwest China's Yunnan province on Wednesday. [Photo by Zou Hong /chinadaily.com.cn]
A major national high-speed railway line, Shanghai-Kunming high-speed rail, which links China's coastal and inland areas, began operating fully on Wednesday.
The 2,264-kilometer railway, stretching from the coastal city of Shanghai in the east, to Kunming, capital of Southwest China's Yunnan province, boasts the longest high-speed railway spanning the country.
The Guizhou west section between Kunming and Guiyang, the last section of the Shanghai-Kunming high-speed railway, began operating on Wednesday, marking the completion of the entire railway project.
The Shanghai-Kunming high-speed railway, or Hukun high-speed railway, is made of three sections: the Shanghai-Hangzhou high-speed railway, Hangzhou-Changsha high-speed railway and Changsha-Kunming high-speed railway.
The high-speed rail connects a dozen tourist destinations, including Shanghai, Hangzhou, Nanchang, Changsha, Guiyang and Kunming.
The high-speed rail cuts Shanghai-Kunming travel time from 34 to 11 hours.