Construction of China-Laos railway officially commences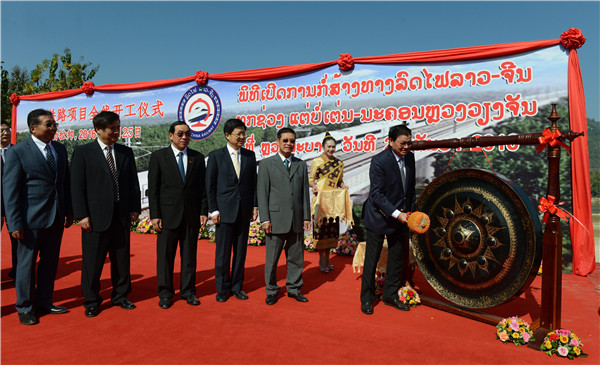 A ceremony, attended by Chinese and Lao officials, is held to mark the start of China-Laos railway construction in northern Lao city Luang Prabang on Dec 25, 2016. [Photo/Xinhua] 
LUANG PRABANG - Construction of the China-Laos railway officially started Sunday in northern Lao city Luang Prabang.
Addressing the ceremony, Lao Minister of Public Works and Transport Bounchanh Sinthavong said the development of the railway is of great significance in implementing the resolution of the 10th National Congress of the Lao People's Revolutionary Party (LPRP) and in boosting Lao socio-economy.
The project will help expand and promote Laos-China cooperation in economy, trade, investment and tourism among others, as well as further strengthen economic ties in China-ASEAN free trade area, said the minister.
"Once completed, the railway will benefit Lao people of all ethnic groups, facilitate and reduce costs of transportation, stimulate the development of agricultural and industrial sectors, tourism, investment and trade, as well as generate income for Lao people and the country," he added.
Bounchanh, on behalf of the ministry and the project management committee, expressed the gratitude to China for supports.
Infrastructure construction is the foundation for economic development. China-Laos railway project is a historic milestone in the comprehensive strategic cooperation between Laos and China.
Huang Difu, general manager of China Railway International Co., Ltd and chairman of Laos-China Railway Company, said the China-Laos railway is a major strategic project.
After the ground-breaking ceremony on Dec. 2, 2015, governments and businesses of China and Laos have closely coordinated to complete the formation of Laos-China Railway Company and sign agreements on concession period of the railway.
Meanwhile, work on preliminary design, project bidding, imports of material and equipment, land clearance among other preparations have gained initial results, said Huang.
"Following the consensus reached by leaders of the two countries as well as the preparatory situation of the project, it is now the time to officially begin construction of the railway," Huang added.