Railway trainees in Kenya learn the nuts and bolts of operations
As long-awaited new line nears completion, training is underway for the employees who will run and maintain it
It is rare to see Chinese teachers in Kenya, says 27-year-old Martin Kabue. When he read an advertisement in the newspaper that Chinese teachers will come to Nairobi to offer training programs for aspiring railway technicians, he was exhilarated.
"I was very excited upon reading the advertisement, especially when I learned that we would study under Chinese teachers. It's unusual in Kenya. I have never studied under foreigners," Kabue says after attending classes for a little over a month. "China is one of the largest economies. I knew I would get the best from them."
Kabue is among 23 students in a course on railway communications at the Railway Training Institute in Nairobi. He already had a diploma in information communication technology from a local college.
"Applicants have to meet a list of requirements and get through rounds of interviews to get a position in the program. I used to be the best in my class. When I got involved in the training, I realized there is so much to learn," he says.
The short-term training started in October. It's the second stage of a training program sponsored by China Road and Bridge Corp, in collaboration with the Kenya Railway Training Institute and Southwest Jiaotong University. In addition to the communications course, there are three courses on locomotives, signaling and track maintenance, each lasting between three and six months. Each has an enrollment of around 30 students.
The university has pooled 14 teachers from resources in railway vocational training in China, teaching either in English or through translators.
Dai Ruoyu, leader of the training team, says the program's second phase will last until the end of 2017 and expects to offer 14 courses and train 743 students.
"By February 2017, the peak time of the training, we'll have 44 Chinese teachers," Dai says.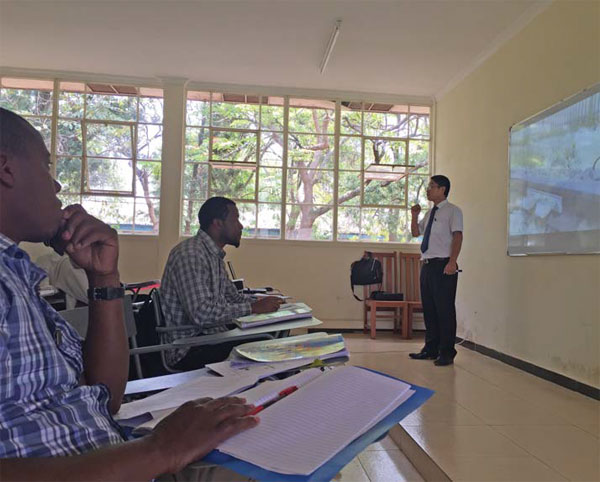 A Chinese teacher gives a lesson to Kenyan railway technicians under a cooperative training program. Photos by Li Jing / China Daily
The course is designed for prospective technicians on the Mombasa-Nairobi Standard Gauge Railway project. They will ensure seamless operation and management of the $3.27 billion railway line upon its official launch, set for Aug 1, 2017.
At the first stage of training, from April to August this year, 102 students entered a three month program to complete basic, short-term courses on traffic and transportation management, telecommunications control engineering, and locomotive and rolling stock engineering. Now they are in internships with the railway.
Yuan Yuan, a locomotive lecturer chosen by Kunming Institute of Railway Technology, has been in Narobi for months. She says she has not yet had time to tour the capital city.
"It is common for us to spend weekends preparing for classes. The training is intensive for both teachers and students," she says.
The poor teaching facilities are the first things to overcome, she says.
"There are hardly any railway models at the institute, let alone railway videos and photos."
A teacher for 28 years, she spent three months preparing course outlines before she embarked on the training trip.
She gets comfort from her Kenyan students.
"They are talented and creative," Yuan says. "They are much more active than Chinese students in classes. They like discussions and interactions and want to show themselves in group discussions, through which many problems can be solved in a timely manner. It might be partly due to their traditional British-style education background."
Dai says the most impressive thing is that students photographed and collected all the tracks they could find on campus and detailed repair plans, after a class on track maintenance.
"They are very passionate about their studies," Dai added.
Still, the training is challenging. Yuan says students commonly lag behind in calculations and spatial thinking, and British weights and measures also add problems.
Lydia Wangui Muriuki, 27, is one of three female students in her class of 23. The course was difficult at first for her, as she had been a data-entry clerk at a company's customer service center.
"The teachers always encourage us and come up to ask if we have anything we don't understand," she says. "Chinese teachers are aggressive in a good way. If you don't understand something, they are ready to help and ensure that everyone understands it."
Dai says adjustments were made to the course outlines and teaching plans to make the program practical and feasible.
"Discussions with CRBC taught us that practical skills are the most important," Dai says. "We cut some unnecessary theoretical courses and impractical courses to concentrate on practical knowledge that trainees will use in their future work with the railway."
Usually, in railway vocational collages in China, students have to study three years, taking more theoretical courses and acquiring a wider range of knowledge than the intensified training program in Kenya.
Muriuki says she expects the training will lead to a job with the railway.

"In Kenya, everyone knows the Mombasa-Nairobi railway is going to improve our lives. I am really willing to work with it, to get deeply involved this thing that will change our country."
Oscar Wanjala, 30, who resigned from a local private company as a system administrator to attend the training, expects a job with a salary between 100,000 and 150,000 Kenyan shillings per month ($981 to $1,472) in the future.
Principal Secretary for Transport Irungu Nyakera said at the graduation ceremony for the program's first stage: "Although a lack of adequate infrastructure is an impediment to doing business, an equally big bottleneck for efficiency in transport systems is a lack of human capital - people with requisite skills and competencies."
He said the program aims to build local capacity. The new Kenyan professionals will be exposed to aspects of design, construction and management of railways.
A Sino-Kenya Railway Training Center is scheduled to open in 2017, with investment by CRBC. Southwest Jiaotong University will be responsible for training programs at the center for seven years. Another long-term cooperation, initiated by the company, is expected between the university and University of Nairobi for the development of railway engineers and international training of high-level railway professionals in Kenya.
lijing2009@chinadaily.com.cn