Doctor comforting a 102-year-old patient moves netizens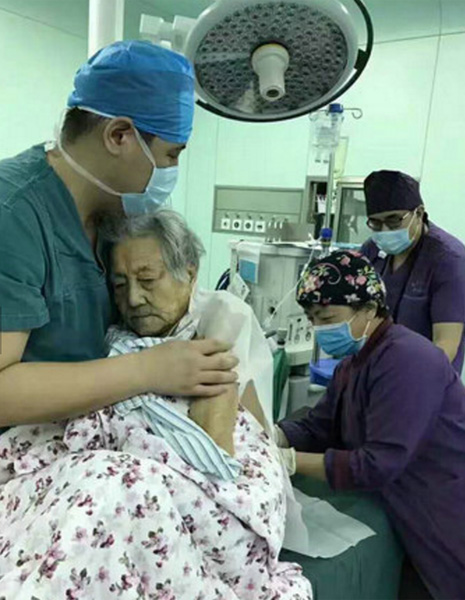 Doctor Zhao Liang holds the 102-year-old woman patient in his arms and comforts her as she is given anesthesia. [Photo/WeChat]
Photos of a doctor holding a 102-year-old woman patient in his arms and comforting her as she is given anesthesia have gone viral on the internet.
The patient, born in 1914, fractured her bones when she fell down and was sent to the First Affiliated Hospital of Harbin Medical University, in Northeast China's Heilongjiang province, on Dec 19.
Due to her age, the medical staff could not administer general anesthesia or make her lie on her side, said Dong Yingwei, the anesthetist. Eventually, the hospital decided to give her local anesthesia with her sitting on the operating table on Dec 23.
"The patient was feeling unsteady and was in pain," said Dong, "So I suggested to doctor Zhao Liang to hold her firmly as a support base, because he is strong."
Steady as a rock
The patient was feeling scared in the operation room and kept asking for her daily care worker for company, said Zhao.
As nonmedical staff members are not allowed in the operation room, Zhao said he calmed her by saying, "Don't be afraid, just relax, I am at your side", and "If you feel uncomfortable, let me know".
It was the first time that Zhao held a patient for anesthesia. "I had to keep myself absolutely steady," Zhao said, though he admitted that he felt pain in his arms after holding her for 20 minutes.
One for the textbooks
Administering anesthesia while the patient is sitting requires high professional skills. Even textbooks do not provide any guidance. Therefore, some young anesthetists were excited to "take photos to remember this moment and circulated them on their WeChat circle of friends", said Zhao.
The photos instantly became popular. Some internet users said they were moved by the scenario and praised the doctor.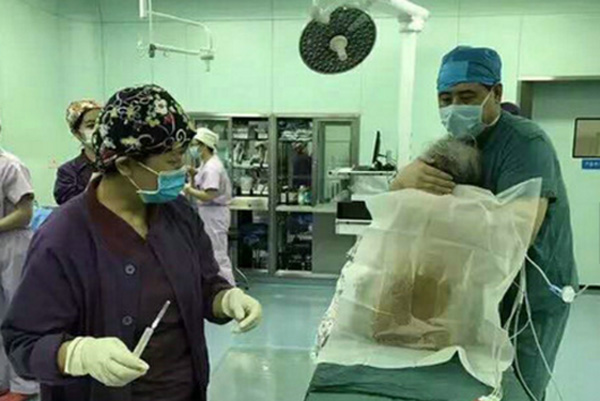 Doctor Zhao Liang holds the 102-year-old woman patient in his arms and comforts her as she is given anesthesia. [Photo/WeChat]