Mastering English an uphill struggle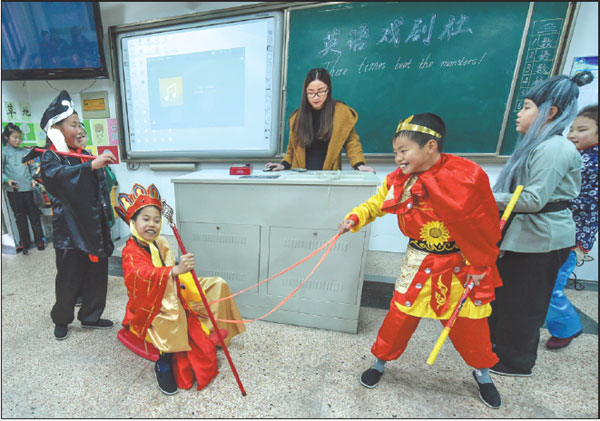 Students at the No 4 Primary School in Changxing county, Zhejiang province, perform during the school's English drama festival.Xu Yu / Xinhua
Language proficiency in China remains at a low level, despite record investment in school programs
Liu Jian started learning English while in middle school at age 13. It was a compulsory subject, and he took classes in it every day.
He continued to learn the language in high school and college, until he began a master's degree program in 2009.
Now, at age 30, he says he is still not confident in his English ability.
"To be honest, I worked very hard when learning the language at school and got satisfactory test scores," said Liu, who works at a State-owned petroleum company.
"But I still need to look up words in dictionaries when I read English books. I can't speak fluently and confidently when I have to talk with a native English speaker. And what's more, I sometimes can't understand the English news on TV."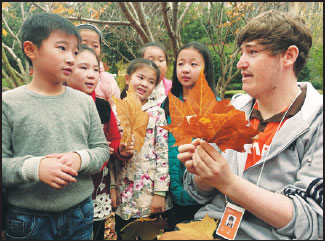 A teacher from the United States talks with students at a community in Fuyang city, Anhui province, in English.Wang Biao / For China Daily
Liu's feelings are typical for people his age. In the sixth English Proficiency Index, recently published by Swedish education company Education First, China ranked 39th out of 72 countries and regions.
The level of English proficiency among Chinese remains at a low level globally and lags behind a number of other Asian countries such as South Korea and Japan, according to the report.
Younger starting age
Despite China's low ranking in the Education First report, Chinese have historically spent a lot of time and money on learning English.
A report by Shenzhen-based consultancy CIConsulting showed that with almost one-fourth of its population learning the language, China is the world's largest market for English education.
The report said Chinese people spent 30 billion yuan ($4.3 billion) on learning English in 2013, a figure it projected would increase by 15 percent each year.
A series of regulations released in 2001 by the Education Ministry called on the nation's primary schools to start teaching English in the third grade. That is earlier than Liu and his peers began learning, but in reality, many schools in first-tier cities such as Beijing begin English courses even earlier, from the first grade.
Parents are also keen on having their children learn beginning at younger ages.