Positive signs for panda after intestines op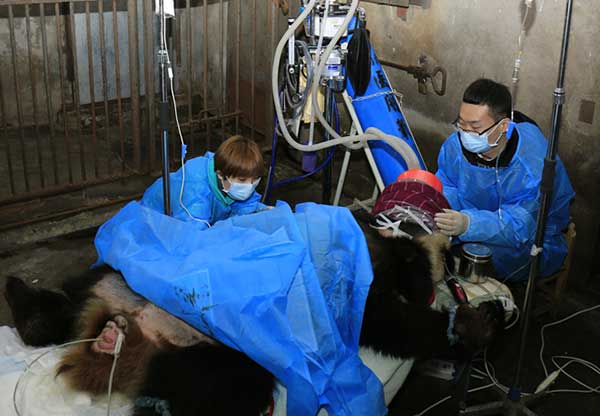 Nan Nan, a female giant panda, undergoes surgery on Dec 3 for an intestinal blockage at the Chengdu Research Base of Giant Panda Breeding, Sichuan province.[Zhang Zhihe for China Daily]
A giant panda that underwent surgery this month to remove an intestinal blockage is recovering well, according to experts at the Chengdu Research Base of Giant Panda Breeding.
Despite the rain, Nan Nan, a 3-year-old female, was seen on Sunday morning leisurely eating a breakfast of bamboo leaves on a hillside in Sichuan province.
"She is recovering from her operation to remove an obstruction in her intestines," a condition that can prove fatal for pandas, said Lan Jingchao, head of the base's animal hospital.
In fact, Nan Nan could be the first to survive the surgery, according to Zhang Zhihe, director of the research base. He said that in the 1990s a panda with the same symptoms died after a similar operation.
On the morning of Dec 1, keepers noticed that Nan Nan was restless and was having trouble defecating. Veterinarians went on to remove about 2 kilograms of droppings from her transverse colon, descending colon and recta.
"We thought she was OK, but the symptoms returned in the evening," said Yang Zhi, who is in charge of disease prevention and control at the base.
An ultrasound examination showed a large blockage affecting Nan Nan's colon, descending colon and sigmoid flexure.
Again, nearly 2 kg of droppings were removed, but the vets could not access the upper part of her colon.
"We had to ask experts from the Nuclear Industry 416 Hospital in Chengdu for help," Lan said.
He said that on the morning of Dec 3, a team of 11 surgeons, anesthetists and nurses from the hospital performed surgery on the panda at the base.
In an operation that lasted two hours, doctors cut open Nan Nan's intestinal wall and extracted about 2.8 kg of droppings.
Yet the work was only half done. Pandas have sharp claws, and when Nan Nan feels itchy, she will scratch, which could reopen the wound and cause an infection, according to Yang Kuixing in the base's animal management office.
Two workers have been taking turns to stay in her den around the clock. Whenever she tries to touch, bite or lick her wound, panda keeper Dai Sha said they shout "Nan Nan, stop!"
She added, "Although she can't understand what we say, it diverts her attention."
Before the operation, Nan Nan would usually eat more than 10 kg of food a day. Over the past two weeks, her appetite has gradually started to recover and she is now eating 2 to 3 kg of bamboo leaves and bread a day.
"We fear too much food could be detrimental to her recovery, but she is getting enough nutrients, as she gets a liquid made of trace elements, protein and amino acid," Lan said.
Doctors have said it will take Nan Nan at least six months to make a full recovery, he added.