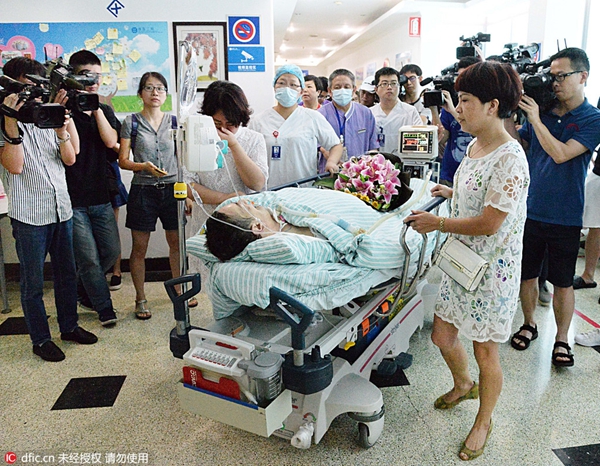 Osborne was sent to the operating room for organ donation at a hospital in Hangzhou, East China's Zhejiang province on June 29, 2016. [Photo/IC]
A British man died and donated organs to six Chinese in Hangzhou, East China's Zhejiang province on Wednesday, making him the second foreigner in the province's organ donation history, Qianjiang Evening News reported.
Mark Terence Osborne, who was 49, was sent to the operating room at 9 am on the 118th day on the hospital bed and donated his corneas, kidneys, liver and heart. His wife, surnamed Wang, decided to make the donation under his former will and with his daughter's consent back in the UK when he was diagnosed as cerebrally dead.
"We talked about this topic before," said Wang, adding that Osborne's attitude was clear.
Osborne came to Hangzhou more than six years ago for his beloved wife, a local Chinese woman, and lived and worked there since then.
According to Wang, Osborne loved Chinese paper cutting and the fountain at West Lake, and liked walking on Hefang Street in Hangzhou. He once brought back home three injured birds along Qiantang River bank and raised them. If he saw a student doing homework at a restaurant he happened to dine in, he would offer to teach the kid English.
Their tranquil life came to an abrupt end on March 3, 2016 when Osborne had a sudden stroke, which was later diagnosed as subarachnoid hemorrhage, or a rupture of a blood vessel just outside the brain, and he fell into a deep coma.