The northeastern province of Heilongjiang has signed a memorandum of cooperation with Russian aviation companies to jointly develop large transport aircraft.
The document was inked by officials and entrepreneurs from Heilongjiang province and Russia on Tuesday in Harbin, which is holding the first China-Russia Expo.
It says the two sides will cooperate in the development of the Ilyushin Il-96-400T airlifter and Ilyushin Il-103 multi-role aircraft, according to China News Service.
Once completed, the Ilyushin Il-96-400T project will have a total market value of more than 100 billion yuan ($16 billion), provincial officials said, adding that the Il-103 project will earn 1 billion yuan from the market each year. The two projects will need a combined investment of nearly 51 billion yuan.
The Ilyushin Il-96-400T series is a four-engine, wide-body transport aircraft family developed based on Russia's first wide-body airliner, the Ilyushin Il-86, Russia's answer to the Boeing 767 series and the Airbus 330 family. The Ilyushin Il-103 is a single-engine, light aircraft mainly used to train pilots.
Several Chinese companies such as the Heilongjiang Huaxia Tianyuan International Trade Co will work with Russia's aircraft magnates United Aircraft Corp and Ilyushin Aviation Complex on the joint efforts.
Provincial officials said they expect the projects will help Heilongjiang become a development and manufacturing base of large transport aircraft and multi-role light planes.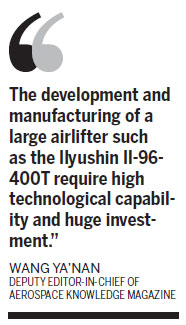 Other Chinese companies, most of them from Aviation Industry Corp of China, also discussed cooperation opportunities with their Russian counterparts.
However, a leading aviation observer expressed doubts over the feasibility of the Ilyushin Il-96-400T project.
"The development and manufacturing of a large airlifter such as the Ilyushin Il-96-400T require high technological capability and huge investment, both of which I don't think a single province or an alliance of several companies can afford," Wang Ya'nan, deputy editor-in-chief of Aerospace Knowledge magazine, said.
"In addition, even if they manage to develop and make a prototype, the certification process will be very difficult and time-consuming because these involved Chinese companies don't have the experience and know-how to deal with such complicated legal issues."
This is not the first time a Chinese province has attempted to cooperate with Russian aircraft giants to boost its own aviation industry. In March, a private enterprise in Henan province announced that it had reached an agreement with Sukhoi, producer of the Su-27 fighter jet, to set up an assembly facility for the Russian company's Superjet 100 jetliner.
zhaolei@chinadaily.com.cn