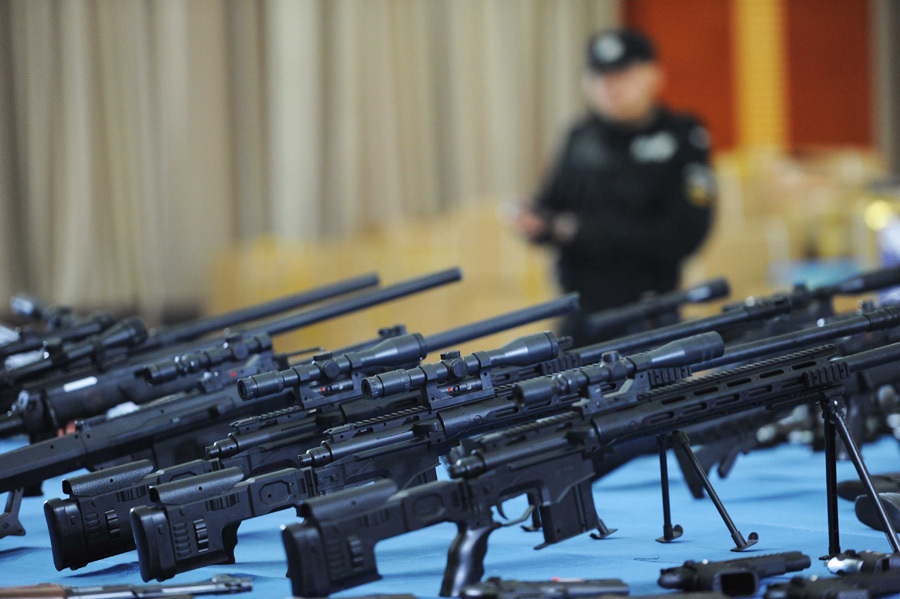 Confiscated guns are displayed in Guiyang, capital of southwest China's Guizhou province, on March 6.[Photo Wu Dongjun/asianewsphoto]
Guizhou police broke up a gang that was manufacturing and selling weapons and confiscated about 15,000 guns and 120,000 controlled knives, the largest such seizure ever in China.
Fifteen suspects were arrested after the four-month investigation. The gang's business covered 27 provinces and municipalities, including Guangdong, Guizhou, Hunan and Sichuan.
Some crossbows were also seized.
Private citizens are not allowed to own guns, according to Chinese law.
Yang Tao, an officer of the Criminal Investigation Department at the Guiyang Public Security Bureau, said the guns, pistols and rifles were made of iron and used steel balls as bullets.
The firing range of the pistols is 30 to 50 meters, he said.
Fired from a great distance, the guns could cause permanent disability, he said, and at close range they could be lethal, he added.
Yang said the firing range of rifles could exceed 200 meters.
Among the controlled knives are hacking knives and daggers.
"Those knives are made of stainless steel. All of them are edged and are very sharp," Yang said.
The police found evidence on the gang while investigating a robbery in Guiyang, Guizhou's capital. The police said a suspect in the case bought his gun from a man identified only as Qu.
A further investigation showed that Qu sold guns and knives in Guiyang and bought those weapons from a gang in Shaodong, Hunan province.
The gang controlled several warehouses where many guns and controlled knives were stored. Many vehicles visited those warehouses, and the trade was very active, police said.
Du Chuang of the Guiyang Public Security Bureau said the gang in Shaodong was a family business.
"They ran their business in the name of a cutter factory and gave out their business cards all over China," Du said.
Knives with blades more than 22 cm long and those with blades more than 15 cm long and a point angle of less than 60 degrees are classified as "controlled knives".
In 2008, the Ministry of Public Security issued a notice requiring sellers to record the identities of people who purchase controlled knives since they are considered dangerous.
Figures that the Ministry of Public Security had earlier provided to China Daily show that between 2009 and 2013, gun-related crimes fell by 35 percent, compared with the previous five years.
In 2003, the numbers hit a record low, decreasing by 37.9 percent, data showed.
Police have vowed to strengthen efforts to combat gun- and explosives-related crimes after a rise in such crimes in Shaanxi, Guizhou and Yunnan provinces caused many casualties since January.
Contact the writers at zhaokai@chinadaily.com.cn and houliqiang@chinadaily.com.cn.