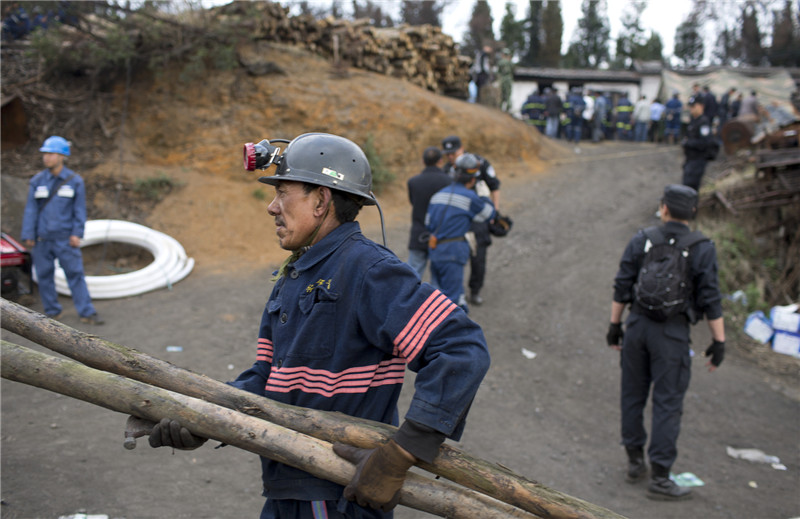 Rescuers work at the Xiahaizi Coal Mine in Qujing, Yunnan province, on Monday after the mine flooded, trapping 22 miners. Up to 11 am on Tuesday, more than 30 hours after the incident, rescuers were still trying to get in touch with the 22 trapped miners. [Photo by Qu Mingfei/Asianewsphoto]
KUNMING - Twenty-two miners trapped underground by a coal mine flood in Southwest China's Yunnan province on Monday remain missing, as investigation established that the accident was caused by blasting operations.
Contact has still not been made with the trapped miners as of 3 pm on Tuesday, 34 hours after the accident at the Xiahaizi mine in Qilin District of Qujing city, said Fan Huaping, mayor of Qujing.
The flooding followed a blasting impact on the goaf (the deserted part of the mine already cleared of minerals). The blast caused water lying in the goaf to spill into other parts of the mine, said Fan.
The flooding hit the mine at about 4:50 am on Monday, when 26 workers were working underground. Four of them were rescued on Monday morning while 22 remain missing.
As of Tuesday, there were eight rescue teams at the site. Three high-power pumps and more than 500 people have been sent to aid the rescue efforts.
The pumps are running non-stop, discharging about 140 cubic meters of water per hour and causing the water level underground to drop continuously.
Li Wanjiang, deputy head of the State Administration of Coal Mine Safety, arrived at the mine on Monday night to supervise the operation.
The administration has also mobilized two professional rescue teams and high-power pumps from the neighboring provinces of Sichuan and Guizhou to help in the rescue, said Luo Shixiong, spokesman for the rescue headquarters.
"Fifteen rescuers from Guizhou have arrived at the site, and rescuers from Sichuan are on their way," according to Luo, also secretary-general of Qujing.
He said that the pumps already set up have so far drawn out of the mine more than 1,000 tonnes of water, a third of the total deposited there.
The rescue efforts are facing two major difficulties, the spokesman said. One is that the lane way of the mine is too narrow to hold a large rescue team, and the other is that the mine has limited electrical capacity, restricting the number of pumps that can be operated simultaneously.
A 500 KV transformer has arrived at the site to increase the power capacity, he added.