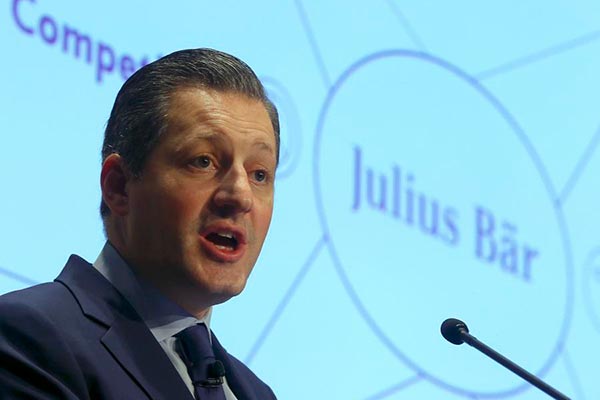 Chief Executive Boris Collardi of Swiss private bank Julius Baer addresses a news conference to present the bank's full-year results in Zurich, Switzerland February 1, 2016.[Photo/Agencies]
Fintech models
Global banks are monitoring new fintech business models emerging in China and the evolving preferences of wealthy clients there.
"It's a completely new frontier," said Boris Collardi, CEO of Julius Baer, Switzerland's third-biggest private bank.
Julius Baer has traditionally served wealthy Chinese with offshore accounts in Hong Kong and Singapore, Asia's two main cross-border wealth centers, or advised Chinese expatriates. In December, Julius Baer acquired a 5 percent stake in Jupai Holdings, a wealth management firm catering to HNWIs in Shanghai.
In the past, Collardi has described the domestic Chinese banking market as "practically impenetrable" given the restrictions on overseas banks. But the changing technology of finance in China seems to have aroused his interest.
When he visited the country last year, Collardi met primarily with fintech companies. He now says he'd consider forming strategic partnerships or making direct investments. A Julius Baer spokesman said the bank has about $100 million to invest in the country.
Collardi is still figuring out how Julius Baer can benefit from that trend: whether to own Chinese companies, strike partnerships, or have staff on the ground. "I do not exclude that maybe one or other fintech disruptive models could come from China over time," he said in an interview with Bloomberg.
Even as China's economy cools, global banks could benefit hugely from the convergence of two trends: Wealth transfers, from industrialists finishing out their careers to their children, and the rise of China's new tech millionaires. The world's second-biggest economy is no longer growing at double-digit rates, but its past success has created a huge pile of wealth that could keep private bankers busy for many years to come.