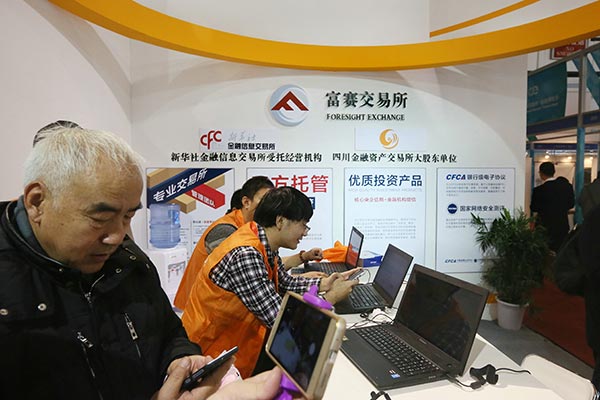 People consult for information on startup financing and investment at the Foresight Exchange office in Beijing.AQING / FOR CHINA DAILY
Credit Suisse CEO Tidjane Thiam also wants to expand in Asian wealth management and boost the lender's presence throughout China. He's not alone. "Every bank is getting out of capital-intensive activity," Thiam said at a recent financial industry conference in Paris. "Every bank is going into asset management and wealth management, and that worries me."
Aside from a potential stampede of Western bankers tripping over each other in the quest for mainland clients, another challenge is the rise of insurgent financial technology firms in China that are launching smartphone apps and other digital investment tools that appeal to the younger, new-rich set. Online brokerage Tiger Brokers, in which Chinese smartphone maker Xiaomi is an investor, and Futu Securities have developed apps that allow investors to buy stocks using their phone. Beijing-based robo-adviser MiCai, modeled on US-based automated investment advisers such as Wealthfront and Betterment, started operation last fall.
The supreme irony for private bankers is this: The very Chinese tech entrepreneurs they are all chasing could develop new fintech models that disrupt the way wealth managers are doing things on the mainland. Li Zhiguo, 38, is a financial app developer who made a pile of money from the stock options he accrued working at Alibaba, which raised $25 billion when it went public in 2014.
Li left the e-commerce giant in 2010 and tried his hand at angel investing. In 2013 he became CEO of Wacai.com, which has developed a wealth-management platform on which 1 million customers trade actively, according to the company.
Li is a private-banking client of both UBS and China Merchants Bank. He's generally happy with the service at both banks but wonders if these large, prestigious institutions really see what's coming over the horizon. "These big banks," he said, "tend to be very conservative. They don't see the importance of digital applications." He says younger wealthy investors want to manage their own portfolios on their phones.