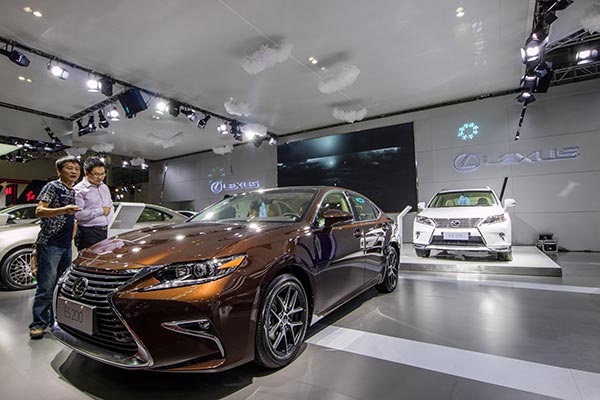 Visitors inspect a Lexus ES200 at an auto show in Fuzhou, Fujian province, in October last year.[Provided to China Daily]
Toyota Motor's luxury arm Lexus has vowed to significantly boost the share of petrol-electric hybrid cars in its sales in China, which faces mounting pollution pressures.
Tetsuya Ezumi, executive vice-president of Lexus China, said last week that the company expects petrol-electric hybrid cars would account for half of Lexus sales in China in the future.
Lexus moved 21,120 petrol-electric hybrid cars in China last year, a quarter of its overall sales in the country.
In the first quarter of this year, the company's petrol-electric hybrid car sales in China rose by 34 percent year-on-year to 5,515 units.
Tetsuya said Lexus would continue to bring new petrol-electric hybrid models into China in the coming year. In 2017, the Lexus LC500h hybrid sports car is due to hit the Chinese market.
The company now has seven petrol-electric hybrid models available in China, including the CT200h, ES300h, LS600hL and NX300h.
According to Chinese policies, buyers of petrol-electric hybrid cars are not eligible for government subsidies. In contrast, buyers of purely electric and plug-in hybrid models can enjoy subsidies that can exceed 100,000 yuan ($15, 425).
However, Tetsuya believes petrol-electric hybrid cars are "indisputably practical" to cut CO2 emissions and have "huge growth potential" in China.
Lexus petrol-electric hybrid cars combine a conventional internal combustion engine with an electric motor. Unlike pure electric and plug-in hybrid cars, they don't need to be charged and their petrol engine can also produce electricity that can be stored in the electric motor.
Accumulated sales of Lexus petrol-electric hybrid cars in China have reached 97,000 units since 2005. Meanwhile, global sales have topped 1 million units.
Tetsuya said Lexus aims to boost its overall sales in China to 100,000 cars this year from 87,000 units in 2015.
In the first quarter of this year, it delivered 23,338 cars in China, a surge of 42 percent.
He predicted premium car sales in China would hit 2.5 million units a year by 2020, enabling the country to overtake the United States as the world's largest premium car market.
"More motorists will upgrade their personal fleets in China. Customers are becoming younger and more diversified, and seeking brand value more strongly. These constitute a big opportunity for premium carmakers," he said.
He added that second-time buyers are expected to make up 50 percent of car customers in China by 2020, up from 30 percent last year.
The average age of premium car buyers is 36, much younger than 50 in Japan and 56 in the US, according to Tetsuya.