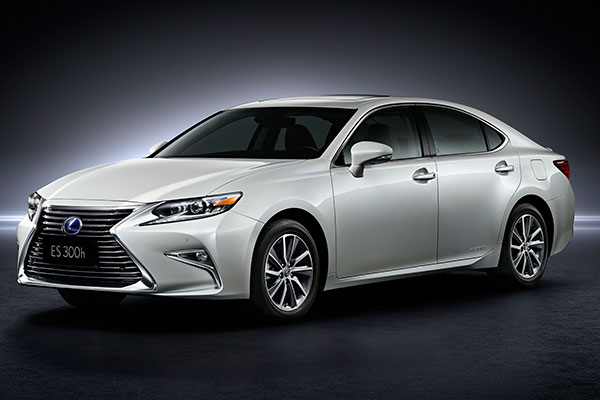 Lexus' luxury car ES.
Japanese luxury carmaker Lexus launched its new full-size executive sedans, the ES series, on Tuesday.
Lexus has implemented its understanding of Eastern philosophy in the two gasoline and one hybrid models.
The Lexus ES designers were inspired by nature and applied Eastern aesthetics in the vehicles' details.
The brand's signature front grille is expanded to a larger area featuring a more modernized and bolder spindle look.
The grille has a low gloss inner that contrasts with its chrome-trimmed outer frame.
New standard LED headlights give the ES series a steely stare at night.
While lightning shaped LED daytime running lights symbol a clear brand identification.
A fully redesigned front bumper puts the fog lights at the corners to accentuate the wide stance.
The ES also shows a more sophisticated look from the rear with distinctive L-themed taillights. The freshened design extends to 10 exterior colors, including the new supersonic quartz white and elite black.
The five-layer white paint is inspired by snowscapes in the color researcher's hometown of Sapporo.
All the paints use self-healing clear coat technology enabling automatic slight scratch renovation. Lexus offers a bamboo interior option, the first carmaker in the class to use the material, which equips a bamboo steering wheel with leather covering the left, right and lower parts.
Four seat colors are available, including Chinese customers' favorite yellow crystal. The seven variants of the new series carry more than 60 upgrades from the earlier generation.
The ES 200 is powered by a 2-liter natural aspiration engine with an output of 123 kW maximum with 199 Nm peak torque.
The ES 300h hybrid powertrain has an Electronic Continuously Variable Transmission gearbox with a 151 kW electric motor besides the gasoline engine.
The fuel consumption is lowered to 5.4 liters every 100km.
The hybrid model enjoys a warranty and free maintenance of 6 years or 150,000km, and the carmaker promises carefree use of the battery for 10years or 250,000km.