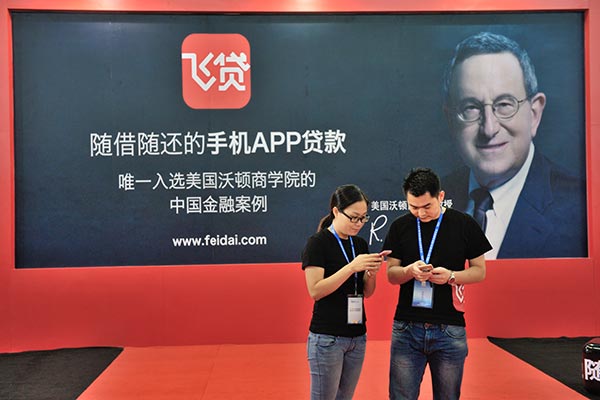 Two people stand before a billboard advertising a mobile app designed for submitting applications for bank credit. The app was developed by Shenzhen-based ZTE Corp. XIAO XIANG / FOR CHINA DAILY
Since late leader Deng Xiaoping kicked off the country's modernization drive in the late-1970s, China has evolved into a $10 trillion-plus economy with vast sums of household wealth. In 2014, the country's HNWI population grew by 17.5 percent, to 890,000; the elite group's combined wealth came in at $4.5 trillion, according to Capgemini and RBC Wealth Management. Swiss private bank Julius Baer sees HNWI wealth reaching $8.2 trillion by 2020.
Tech entrepreneurs are one of the fastest-growing groups within China's swelling ranks of 1 Percenters. Four of the five richest Chinese are in the tech sector. China's second-richest man isn't an industrialist or property developer. It's Jack Ma, founder of the Alibaba Group, a Chinese mashup of EBay and Amazon.com. He was worth $27 billion on Feb 22, according to the Bloomberg Billionaires Index, more than Hong Kong business magnate Li Ka-shing, whose flagship companies CK Hutchison Holdings and Cheung Kong Property Holdings have interests in real estate, ports, and infrastructure.
Private banking in China is a huge market-and a devilishly tough one to crack for a foreign bank. The country's first wave of multimillionaires and billionaires tended to be factory owners and exporters who started businesses in the 1980s and 1990s, when China clocked double-digit growth rates and the export sector boomed.
As a general rule, they've invested their wealth in property and financial assets and prefer to deal with private bankers at local institutions such as China Merchants Bank.
Although some foreign banks-including JPMorgan Chase, Goldman Sachs, and Citigroup-have licenses or joint ventures that give them partial access to China's wealth-management market, they don't have the branch footprint and scale of Chinese banks. "They have very, very low market share, largely because they don't have distribution," said Sameer Chishty, a Hong Kong-based partner at Bain & Co, who co-leads the firm's financial services for Greater China and its global wealth-management practice.