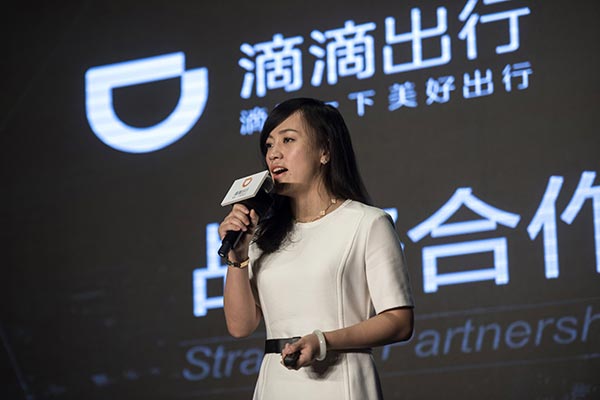 Liu Qing, president of Didi Kuaidi company, announces Didi's cooperation with China Merchants Bank.FRED DUFOUR / FOR CHINA DAILY
The new entrepreneurial class amassing great wealth at a younger age provides another opening for global banks. These risk-takers are sophisticated, often Western-educated, and comfortable working with foreign banks at home and dabbling in investments abroad.
Because of that, said Chen Shi, a personal banker based in Hangzhou with China Merchants Bank, "the relatively younger generation are probably more open-minded about using (products offered by) foreign banks."
That provides several potential revenue streams for full-service banks offering wealth management along with investment banking services such as equity underwriting and merger advice.
"From zero to billionaire can be as quick as six years in this new tech sector," compared to more than 20 years in a more traditional industry, said Francis Liu, a Greater China manager for ultra-high-net-worth clients at UBS. "The ultimate goal is to help entrepreneurs grow their wealth. We don't just come to you when you are really rich. We want to support you across all life stages."
In January, Liu's boss, UBS Chief Executive Officer Sergio Ermotti, told Bloomberg TV that, recent market turmoil aside, "China is a great opportunity, like it has been for the last 20 years." The Swiss bank plans to double its staff in the country within five years. Private banking is an attractive business for global banks in China and elsewhere, because it doesn't tie up huge amounts of capital and generates a steady return.
Typically, private bankers charge clients a percentage of the assets they manage and extra fees for customized products.