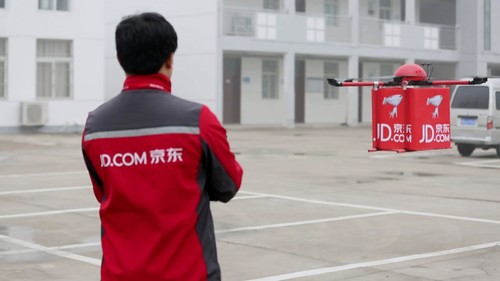 A Jingdong employee uses drones to make test deliveries.[Photo/China Daily]

E-commerce company considering using unmanned aircraft for 'last mile' distribution
E-commerce major JD.com Inc is working on ways to cut delivery times for rural online shoppers, using drones.
China's largest online direct sales company said staff at its logistics research and development lab are working on an unmanned aircraft project, with the goal of overcoming what it called "last mile distribution" in underdeveloped rural areas.
The Nasdaq-listed retail firm said it has already completed a test drone delivery service in Suqian, Jiangsu province.
In a statement on Thursday, it said it would continue to research drone use, before building a dedicated control center for drone delivery, "to make the plans a reality, in the near future".
Some analysts suggest drone delivery is still no more than "pie in the sky" for many firms, due to the regulatory hurdles involved, as well as cost and safety issues.
But JD.com's Chief Executive Officer Liu Qiangdong told the World Internet Conference in December that he had high hopes the futuristic technology would soon meet the rapidly growing demand from online shoppers in rural China.
"With the help of drones, rural customers will be able to enjoy a more efficient online shopping experience, and allows us to cut staff and delivery costs," he said.
Beijing-based JD.com is not alone in researching the use of delivery drones.
United States e-commerce giant Amazon.com Inc is also developing its Prime Air drone, which promises superfast delivery of orders within 30 minutes, even in the busiest city centers by being able to avoid heavy traffic.
Rather than using its drones to deliver goods directly to shoppers, JD.com plans to employ them to transport goods from rural distribution stations to deliverymen based in villages.
Its logic is that the distance between a rural distribution station and village is likely to be less than 10 kilometers - but the delivery time will be vastly reduced, as the process will avoid tricky land journeys that might have taken half a day for the same distance, due to poor road networks in rural parts of the country.
The company said test runs have already shown that drones are especially effective at delivering small to medium-sized packages.
By making careful flight plans, deliverymen can wait for packages at fixed landing points, before completing the final delivery to people's doorsteps, it said.
China's vast rural market is seen as a vital battle ground for China's e-commerce players, but poor infrastructure often makes delivery a major challenge.
Lu Zhenwang, a retail specialist, however, is skeptical that drone delivery is the answer, at least in the short term.
"Using drones to deliver is even more expensive than deliverymen at this stage. Small drones cannot carry heavy items, and the big ones can still cost more than 100,000 yuan ($15,200) each - so it might take another five years to get this type of service operating economically and efficiently."