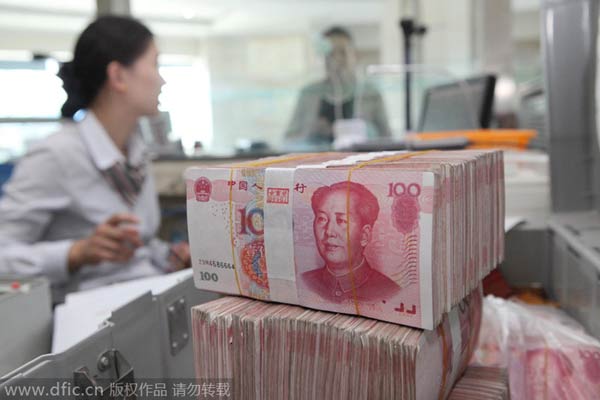 An employee counts renminbi (yuan) banknotes at a bank in Lianyungang city, East China's Jiangsu province, June 4, 2014.[Photo/IC]
China's 2015 fiscal revenue growth fell to a 28-year low of 5.8 percent, the lowest since 1987.
General fiscal revenue including taxes and fines rose 5.8 percent to 15.22 trillion yuan ($2.42 trillion), the Ministry of Finance said on Friday. Same revenue in 2014 grew 8.6 percent and 10.2 percent in 2013.
The central government raked in 6.92 trillion, up seven percent from a year earlier, while regional and local governments received 8.3 trillion yuan, up 4.8 percent.
Special-purpose governmental funds, a separate income category, declined 15.9 percent to 4.23 trillion yuan, compared to a 3.5 percent growth in 2014 and 39.2 percent rise in 2013.
Land sale revenues, which usually accounts for about three-quarters of the governmental funds, tumbled 21.4 percent to 3.25 trillion yuan. A year earlier, revenue grew 3.2 percent.
GDP growth slowed to 6.9 percent in 2015, the lowest reading since 1990.
The ministry attributed the weak revenue growth to deep decline in producer price index, setbacks in industrial output, investment and corporate profits, which weighed on major tax items such as value-added taxes, custom duties, and corporate income tax.
In contrast to the revenue slowdown, 2015 saw a government spending splurge of 13.17 growth. The government spent 17.58 trillion yuan to pay for civil services, as well as the costs of education, healthcare, and other items. The upsurge in government outlay is to counter the economic slowdown.