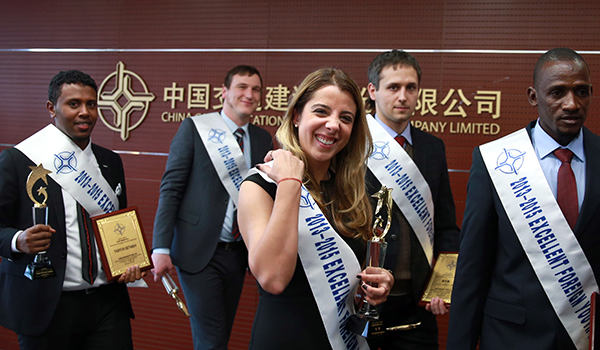 Savanah Oliveira Kunz (center), from Brazil, is one of the 10 excellent overseas employees of China Communications Construction Company. [Photo/China Daily]
Davlatbekova Madina, a 33-year old woman from Tajikistan, has brought her five-year old daughter to Beijing to witness her receiving an award as one of China Communications Construction Company Ltd's best overseas employees.
"Children have very sharp ears," said Madina, in fluent Chinese.
"She can already tell the difference between Russian and Tajikistan dialects, and Mandarin."
Madina has been working for the Tajikistan office of China Road and Bridge Corp, a subsidiary of CCCC, for 10 years and is in charge of its coordination work there.
CCCC is a State-owned transportation infrastructure group principally engaged in the design and construction of transportation infrastructure, dredging and heavy machinery manufacturing.
It has projects in more than 120 economies across Asia, Africa, Latin America, Europe, the United States and Australia.
The company has just recognized its 10-best foreign employees working in its overseas subsidiaries, including Madina, with the others coming from Brazil, Germany, Sri Lanka, Jamaica, and Angola.
Madina says the firm's road construction projects in her country, such as one connecting it to Uzbekistan and China, have made a huge difference to people's lives.
"In winter, many routes can be blocked by heavy snow. But the new roads have significantly shortened travel times.
Other overseas managers to gain recognition in Beijing included Lutz Werner, and Savanah Oliveira Kunz.
Werner is operations director for the European center of procurement and logistics at Shanghai Zhenhua Port Machinery, another subsidiary of CCCC, who joined the operation two years ago.
"China's presence in Germany's infrastructure construction sector is not very large at the moment - but it has potential to grow as the country shifts its energy strategy to increase the use of sustainable energy. For example, a lot of wind farms are going to be built in my country," he said.
Savanah Oliveira Kunz, meanwhile, left her home in Brazil at a young age to study in the United States, and chose to join Shanghai Zhenhua Heavy Industry Co Ltd, a CCCC subsidiary, five years ago.
She has since helped ZPMC sign agreements in Columbia, Venezuela, Brazil, Mexico, Canada, and the US.
"My entire family all worked for Siemens AG, the German multinational conglomerate.