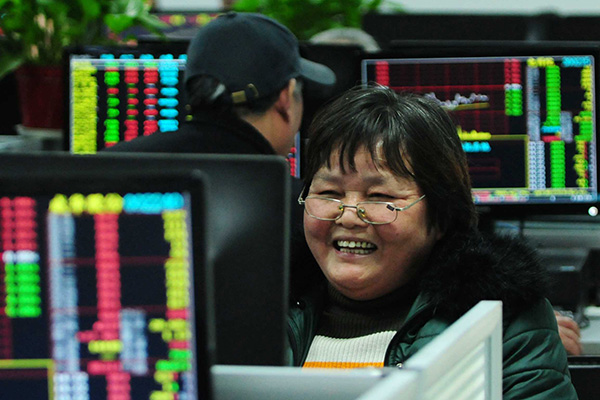 An investor checks stock prices at a securities brokerage in Jiujiang, Jiangxi province. [Photo/China Daily]
CSRC assurance has helped soothe investor concerns, say analysts
Risks associated with margin trading that allow investors to borrow money for stock purchases are well under control, the capital market regulator said on Friday, soothing investors' nerves after the A-share market suffered its biggest monthly loss in nearly eight years.
The benchmark Shanghai Composite Index gained 3.09 percent to close at 2,737.6 points on Friday. Despite the rebound, the index suffered a monthly loss of 22.65 percent, the biggest since 2008.
Zhang Xiaojun, spokesman for the China Securities Regulatory Commission told a news conference that all indicators for the margin trading business have shown that risks are under control.
Total outstanding loans for margin trading stood at 914 billion yuan ($139 billion) as of Thursday. Risky loans with collateral below the warning level only accounts for 1.55 percent of the total loans, according to data from the CSRC.
Risks in the stock collateral business of securities brokerages have also been well contained with risky loans worth about 20 billion yuan.
Meanwhile, major shareholders of listed companies sold shares worth about 7.47 billion yuan between January 9 and January 28, only accounting for 20 percent of the total share value sold during the same period of last year.
"The value of share sales by major shareholders was substantially lower than that of the same period last year. That has to do with the new restrictions imposed by the regulator," Zhang said.
Analysts said that Friday's market rebound could indicate better sentiment as the A-share market has quickly absorbed the negative impact of the uncertainties of the monetary policy and the instability of the renminbi.
On Friday, the Shenzhen Component Index surged 3.7 percent while the startup index ChiNext that tracks high-tech and innovative companies soared by 4.6 percent.
The Bank of Japan on Friday unexpectedly adopted a negative interest rate to support the Japanese economy. The US Federal Reserve also stated at the latest interest rate meeting that it would keep the rate unchanged.
"The global monetary environment has been improving, which could support the A-share market to consolidate and rebound," said Xue Hexiang, a strategist at Huatai Securities Co.
The CSRC said declining profitability will not impede companies from issuing new shares as long as they fully disclose the risks to prospective investors.
"The regulator will no longer endorse the value and investment returns for IPOs under the new registration-based system," said Zhang, the CSRC spokesman.