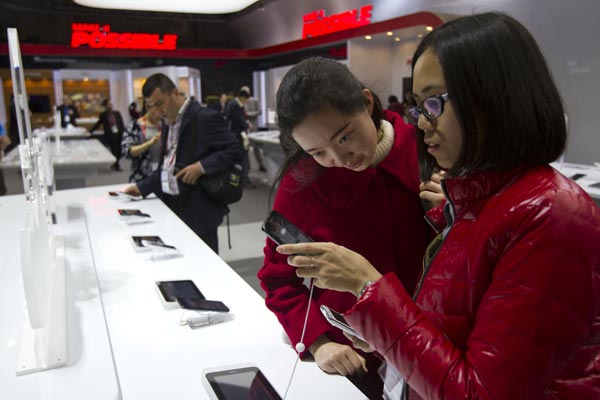 Visitors check an Ascend G620 LTE smartphone at the Huawei Technologies Co pavilion during the Mobile World Congress in Barcelona, Spain in this file photo taken on Feb 26, 2014. Most smartphones, made by Chinese companies including Huawei, run on the Android operating system. [Photo/China Daily]
Gene Cao, an analyst with multinational tech consultancy Forrester Research Inc, says Chinese smartphone makers have made great progress on the hardware front.
"An increasing number of them have shifted their focus onto software. Developing customized Android systems in order to improve user experiences and differentiate themselves from their counterparts has become a core strategy," he says.
According to Cao, Chinese consumers previously paid a lot of attention to smartphone hardware, such as camera pixels. But as more vendors produced better quality smartphones their focus shifted toward software.
"The quality of the operating systems has become increasingly important because consumers are getting picky about user experience," he says.
"They want to find lots of good apps on the operating system they choose and the updating process needs to be smooth. That's why more and more Chinese vendors spare no efforts in creating their own user interface."
Devices sold by Beijing-based Xiaomi, which offers affordable phones with features that can compete with high-end rivals, run on own self-developed MIUI OS operating system, which is becoming popular with users despite its latest version, the MIUI 6, being accused of copying Apple's iOS 7.
Analysts and insiders say that the one of the key reasons for Xiaomi's huge success in China lies in MIUI, which updates its software at the request of users. MIUI has become Xiaomi's core weapon, to the point that the company runs an online forum to allow people to discuss its pro and cons, which has been avidly followed by users for years.
Xiaomi has now emerged as the best-selling Chinese brand with smartphone shipments more than tripling to 61.1 million units in 2014.
Lei Jun, its chief executive officer, claimed on his micro blog on Jan 4 that its competitors are actively studying and copying every detail of the Xiaomi model, without offering any specific details.
According to forecasts by Strategy Analytics, customized Android systems, also known as Android forks, will capture 31 percent of global smartphone sales this year, up from 29 percent in 2013. China is the key market for Android forks, but India and other emerging markets are also poised to be new marketplaces, it says.
In emerging markets where budget smartphones are becoming popular, Android forks could well challenge Google's Android One program.
Google's Android One program is a design initiative launched in the summer of 2014 to help make smartphones more affordable to develop and release. The initiative targets original equipment manufacturers specifically making phones for developing markets.
Despite the rise of Chinese smartphone vendors and their customized Android operating systems, it is still difficult for them to create their own self-developed systems to seriously challenge the existing OS landscape.
"Operating systems need lots of investment and they are not easy to implement. China does need its own OS because of national security and interests, but it might take a long time to establish a really mature one which is embraced by consumers," said Linda Sui, director of Wireless Smartphone Strategies with Strategy Analytics.
"Some of the so-called homegrown systems are backed by government. But they are not being developed to meet the real needs of consumers and markets," Sui said, adding they have a lack of support from app developers too.
Shen from Gartner says that building a successful OS requires the support of an entire ecosystem.
"You need to have enough users to attract app developers. But with not enough apps, it is difficult for any system to attract users. The longer these vendors depend on Android, the bigger the Android ecosystem will become, and the less chance there is for a new comer to defeat it," she said.