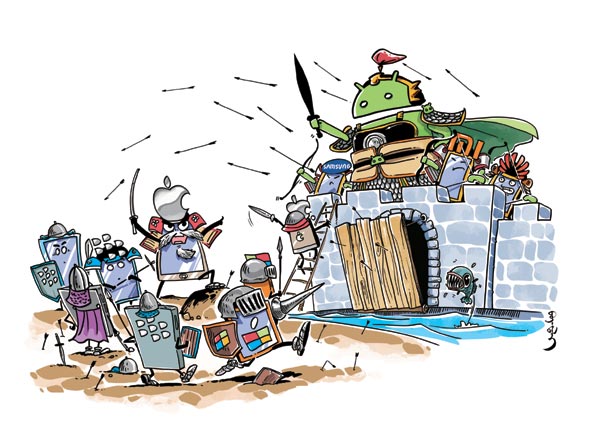 CAI MENG/CHINA DAILY 
Analysts believe the operating system will dominate global mobile phone market 
Despite declining smartphone shipments by Samsung Electronics Co, which still accounted for the most smartphones running on the Android operating system last year, those using systems developed by Google Inc are expected to see their market share grow at a double-digit pace in 2015, thanks to the rise of Chinese device makers.
According to a report released on Jan 7 by information technology research and advisory company Gartner Inc on the global operating system market, Android-based devices surpassed a billion shipments last year, and are expected to grow another 26 percent over the next 12 months.
Sandy Shen, an analyst with Garnter, however, firmly believes that Android will continue to widen its gap over competing mobile platforms with its dominant position remaining largely unaffected over the next five years, despite the Samsung decline.
"Samsung's market share has simply been taken over by rising Chinese vendors and other local brands. So Android will maintain its No 1 position, followed by Apple Inc's iOS, with Windows maintaining its third slot this year," Shen says.
Statistics from Strategy Analytics, a leading multinational technology consultancy, show that Android's market share increased in 2014, with 81.8 percent of smartphones sold in the year running on the operating system, up from 78.4 percent in 2013.
Apple's iOS share actually lost ground, falling from 15.5 percent in 2013 to 14.6 percent in 2014, but still enough though to hold onto the second spot.
The Samsung slowdown in smartphone sales, although it was still the world's biggest seller of Android-based phones in 2014, was most pronounced toward the second half of last year, with third quarter sales down to 79.2 million units compared with 88.4 millions units during the same period in 2013.
That slippage, however, coincided with the rise in the sales of Chinese smartphones using Android. Chinese players occupied five slots in the top 10 global smartphone vendors list in the third quarter of 2014. In the top five list, Huawei Technologies Co Ltd ranked third, Xiaomi was fourth and Lenovo Group Ltd fifth.
Just three years earlier, in the third quarter of 2011, only two Chinese vendors were in the top 10 with none in the top five, according to a Gartner report in December, the top smartphone vendor analysis.
The operating systems of most of the Chinese-produced smartphones, such as those from Xiaomi, are categorized as Android forks, which are defined as Android phones without pre-installed Google mobile services.