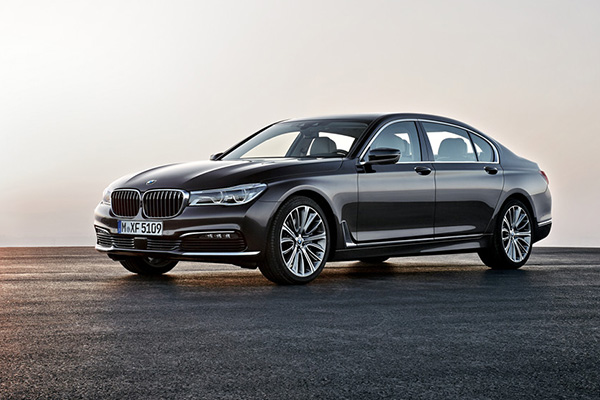 BMW's all-new flagship sedan. [Photo/China Daily]
BMW's all-new flagship sedan, which boasts a new level of the luxury and digital features, will showcase a couple of world-first technologies when presented to customers this Autumn, according to the automaker.
The sixth generation of the BMW 7 series made its world premiere in Munich on June 10, inherits the brand's vision from the Future Luxury concept car that debuted a year ago at Auto China 2014 and benefits from BMW i technology.
BMW expects the model to set new standards for lightweight design, driving dynamics, comfort, intelligent connectivity and operating systems, as it offers customers added value with more interior ambience and innovative functionality.
Harald Kruger, chairman of the board of management of BMW AG, said, "We are presenting another technological leap forward, with unique innovations. And we are inventing automotive luxury for the 21st century.
"With each generation of the 7 Series, we have brought our customers' needs to the road, adapting accordingly as time moved on. Each generation has defined, changed and advanced mobility. Each generation has delivered ground-breaking innovations and set new standards."
Every BMW 7 Series is tailor-made to customers' demands. Drivers can choose from a huge range of possibilities and customize their 7 Series to suit their own personal preferences, according to the automaker.
"Every 7 Series is just as unique as its owner's personality. That is also modern luxury," said Kruger.
According to the carmaker, the new BMW 7 is the first vehicle with a body structure built using carbon fiber reinforced plastic, steel and aluminum, namely Carbon Core, making it lighter and more concrete. The carbon-fiber-intensive light-weight structure technology, initially applied in the BMW i8 hybrid sports car, has cut the BMW 7's weight by 130 kilograms compared with the previous model and hopes to cut fuel consumption by 0.6 liter per 100 kilometers.
Although much lighter than its 8-year-old predecessor, the new 7 Series is heavy in electronics. It is the luxury carmaker's first series production car that responds to hand gestures. It also features wireless inductive charging for mobile phones and a removable seven-inch tablet computer controls infotainment functions.
The luxury car's gesture control system and remote control parking function is expected to be the world's first of its kind to meet customers in early Autumn, months ahead of Volkswagen's new Golf R, which is equipped with similar technologies and is due to launch in 2016.