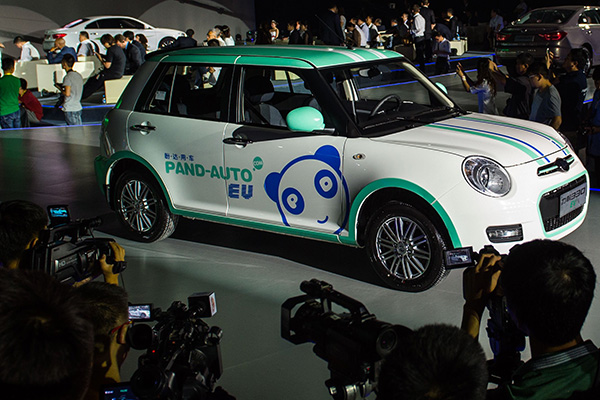 Lifan's new-energy car is seen in this file photo, June 9, 2015. [Photo/Xinhua] 
Chinese carmaker Lifan Auto is shifting its focus to new-energy vehicles, with an aim to hit 500,000 new energy vehicle's accumulative sales by 2020, a move that follows the country's "Made in China 2025" strategy for the auto industry.
Last week, the Chongqing-based company announced that it would launch 20 removable lithium battery powered NEV models by 2020 and stop production of combustion engine cars, according to a news release.
The latest moves follow a 5.2 billion yuan ($850.1 million) non-public fundraising plan in May.
The company plans to invest the majority of the fund in a NEV platform, power trains, parts and production lines, and put 1.06 billion yuan into building NEV energy stations.
Local media reported that Lifan Auto Sales Company Vice-General Manager Zhang Qiang said that Lifan NEV buyers will not have to pay for the approximately 30,000 yuan battery cost, making the Lifan NEV more competitive in terms of price.
The current pure electric model 620EV removable battery edition has a suggested retail price of 249,800 yuan, which is 16,000 yuan more than the plug-in electric edition.
The removable battery edition has smaller battery capacity, shorter driving range and buyers receive less national and local government subsidies.
As a result, PHEV edition buyers pay 43,000 yuan less than the removable battery edition.
A power battery expert said that the removable battery couldn't be recharged when it is in the car and the battery-replacing pattern has faded out in the Chinese market.
The majority of NEVs in China are not compatible with this pattern. Lifan might construct energy stations and manufacture batteries itself.
Li Gaopeng, chief engineer at the National Engineering Technology Research Center for Electric Bus and Safety, said: "The battery costs dropped by one third in the past two or three years. Looking forward, in the future three years, another one third cost deduction is expected.
Lifan plans to build 500 energy stations across the country by 2020 for battery replacement vehichles and to facilitate NEVs for rent. This year, 13 energy stations will be built in the cities of Shanghai, Chongqing and Henan province.
The carmaker's NEVs will focus on the car rental business, with 300,000 cars to be available for rent.
Its subsidiary Chongqing Pand-Auto Car Rent Company has already been providing 330EV, 620EV and 650EV for time-share rental service in eight outlets in the city of Chongqing.