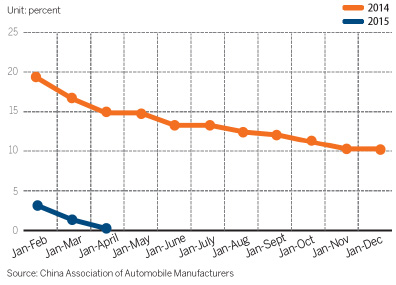 Growth rate of key industry players in auto sector
Overcapacity of concern in sluggish car industry
China's auto sales hit a new low over a three-month period in May and experts do not expect rapid recovery in the near future.
Auto sales fell 4.6 percent month-on-month to 1.9 million units in May, a 0.4 percent dip year-on-year, according to the China Association of Automobile Manufacturers.
The lackluster performance has further slowed the growth pace of the world's largest auto market.
CAAM statistics show the country's auto sales in the first five months totaled 10.05 million units, a meager growth rate of 2.11 percent from the same period a year earlier, which stands as a stark contrast to a 9 percent year-on-year growth rate in 2014.
Yao Jie, deputy secretary-general of the association, said the trend is "consistent with" the "new normal" of economic growth in China, indicating that the country's auto sales have entered a period of slow growth.
Many automakers started nationwide campaigns in April to cut prices to boost their sales.
Despite such efforts, the situation will not change for the better in the short term, said Simon Feng, executive director of Menutor Consulting.
He said the move has not been of much benefit to customers as automakers' price cuts were similar to what auto dealers had already offered.
"Slow growth will continue for some time to come if there are not changes in the macroeconomic environment or relevant policies," he said.
However, Feng said, there is no need for too much concern as the slowdown is a normal phenomenon.
"It is impossible to sustain high-speed growth forever. It is like a boy growing up. He definitely grows faster as a boy than as an adult," Feng said.
Passenger cars
Despite the slowed growth, sales of passenger cars in China remain the envy of many countries.
In the first five months, China sold 8.58 million passenger cars, a decent rise of 6.4 percent from the same period a year earlier.
Chen Shihua, director of the information office at the CAAM, said the increase was mainly due to surges in sales of SUVs and MPVs.