China overtook Japan to become world's top automobile manufacturer with 13.8 million vehicles in 2009. By 2012, China was manufacturing 19.3 million units, almost double the US production, with 10.3 million units, while Japan was in third place with 9.9 million units.
Automobile market in China is largely dominated by foreign brands; domestic auto makers have been making their way into local market with enthusiasm and vigor. Like fledgling auto industry in other countries Chinese car makers started by imitating designs of well-known and popular models from other international brands.
Though many bigger auto manufacturers in China steer clear from this imitation game and try to build their own models, some privately owned auto companies in China are prone to follow designs and models generally associated with wealth and affluence.
While big auto manufacturers put millions in design to try to distinguish themselves from others, some Chinese auto companies appear not that keen to invest in research and design.
Here are 10 auto lookalikes in China.
No 10 UFO VS Toyota RAV 4
UFO, a sport utility vehicle from Zhejiang Yongyuan Automobile Co Ltd, is an odd name for a car, though it bears zero resemblance to flying saucer but looks a lot like Toyota RAV 4, a popular sport utility vehicle made by Toyota.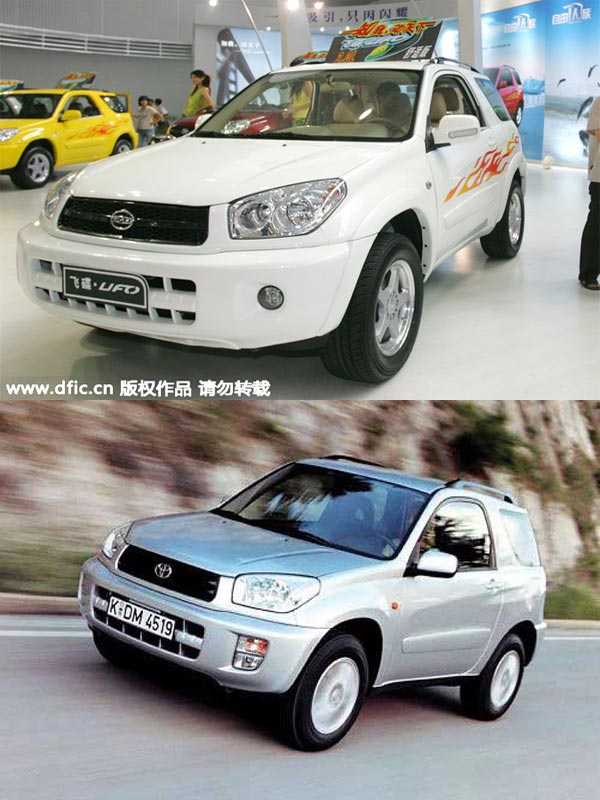 Toyota RAV 4 (above) and Zhejiang Yongyuan Automobile Co Ltd (below). [Photo/IC]