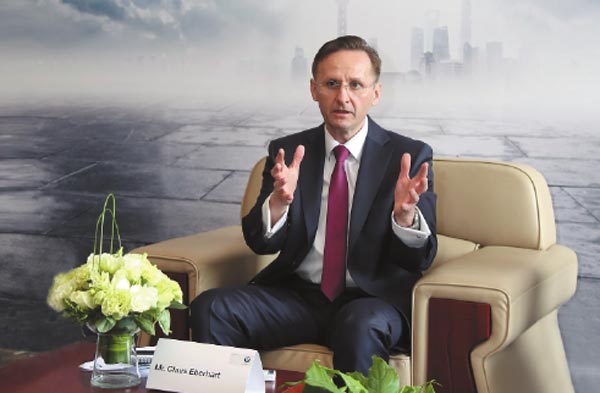 Claus Eberhart says the new Shanghai RDC will cover nationwide requests. [Photo/China Daily]
Phase I of BMW's new regional distribution center started operations on April 9 in Shanghai, aiming to reduce the delivery time for parts by 20 percent.
As BMW Group's largest RDC in Asia, the new Shanghai center addresses the continuously augmented after-sales service market in China. Powered by the company's innovative technologies, the optimized working flow is capable of fulfilling urgent orders in 24 hours through overnight air freight.
Claus Eberhart, vice-president of after-sales service, BMW Brilliance Automotive Ltd, said the Shanghai RDC enjoys the advantage of being close to a seaport and having convenient inbound access to the city.
The center will serve not only dealers in eastern China, but also cover nationwide requests.
"The new RDC will enhance after-sales efficiency by saving dealers' ordering and receiving time. As a result, this will save customers' time costs and help our brand in popularity," Eberhart said.
The German carmaker's data shows that 40 percent of the total 5 million after-sales orders last year were completed in the previous Shanghai RDC.
BMW's current four RDCs, located in Beijing, Shanghai, Chengdu and Foshan, deliver automobile and motorcycle parts, accessories and lifestyle products to authorized dealers and part shops.
To meet the rapidly increasing demands of customers in Northeast China, BMW is building a new RDC in Shenyang, which will be BMW's fifth in China. The new center is scheduled to begin operation in the first quarter of 2016.
Satisfying customers
Eberhart said the key to BMW's long-term success in China is to continuously improve customer satisfaction.
"About 15,000 customers visit our authorized dealer shops every day, and our aftersales service gives us several chances to meet each customer every year," he said.
"Customers may choose our company again in cases of high satisfaction with our after-sales service. So we have to offer our best for high customer loyalty and retention."
International research and consultancy company Frost & Sullivan's analysis released in February found that China will have the world's largest number of vehicles in operation by 2021.
The report said there would be nearly 150 million more vehicles requiring parts and service, making the automotive aftermarket a highgrowth industry. It predicted aftermarket revenue would reach $82.04 billion by 2021.