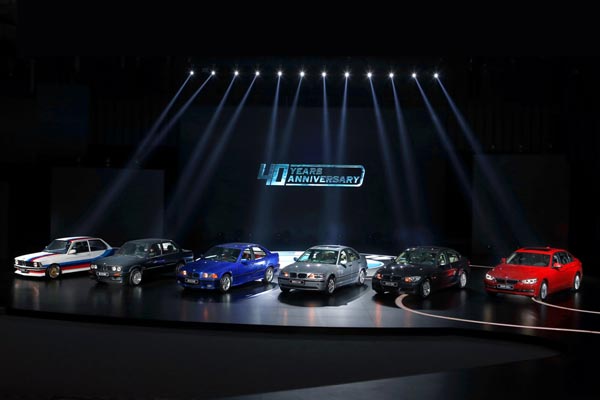 The full lineup of the six generations of the BMW 3 Series. [Photo/China Daily]
German premium automaker BMW's local joint venture BMW Brilliance started selling 40 limited edition 3 Series models all over Chinese mainland on March 28, to celebrate the 40th anniversary of the series.
The 3 Series is a compact executive car that BMW has manufactured since 1975. It has been produced in six different generations.
In 1975, it was produced as a two-door version. Other variants were added in the following generations, including a four-door sedan, convertible, touring and the M high-performance model.
According to the company, it is BMW's best-selling model, accounting for more than 20 percent of the brand's annual sales. Global sales of the 3 Series reached 480,214 units in 2014.
"As the leader of the segment, the BMW 3 Series keeps going beyond itself. It had great sales performance last year." said Zhu Tong, vice-president of sales, BMW Brilliance Automotive Ltd.
Jochen Goller, senior vice-president of sales and marketing with BMW Brilliance Automotive Ltd, said that the BMW 3 Series was called the king of sports and set a benchmark in the segment.
"The BMW 3 Series is a true legend. It is category founder and market leader among all premium sporty sedans. And this leading position has never been shaken at any single year from 1975 until today. It is the most successful BMW model in history," Goller said.
More than 14.5 million units of 3 Series were sold in the past 40 years worldwide, the only premium car in history that has reached so many customers, according to Goller.
The 3 Series was the first BMW to be localized in China in 2003. "This is not just a milestone for BMW development in China, but also the start of a new era for the Chinese automotive industry," Goller said.
The company said that Chinese customers bought more than 340,000 3 Series models in the past 12 years.
"To many of them, the 3 Series was their first premium car, a friend, a family member, a partner, who has witnessed the great achievement they have made in life," Goller said.
The limited edition is based on the 328Li xDrive model, BMW's first locally produced sedan equipped with its most intelligent all-wheel-drive technology.
The BMW xDrive was created in 2003 but the company has been building all-wheel-drive cars for almost 30 years, the first of which was the BMW 325iX that was launched in 1985.
Like the 328Li, the limited edition has a 2.0-liter turbo engine that can produce 180kW of maximum power and top torque of 350 Nm. The dynamic of the limited edition is upgraded after M sport package installation.