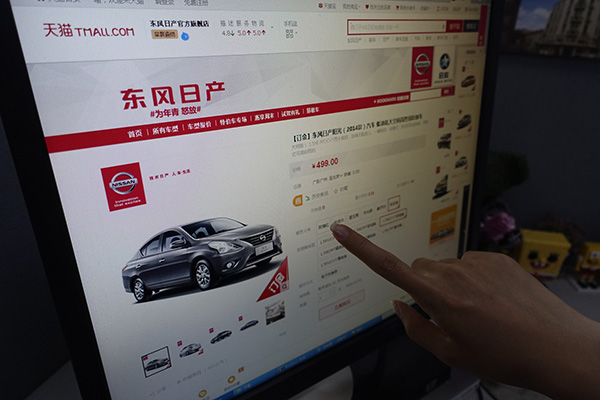 A potential customer browses vehicles online at Tmall.com. Online car sales platforms are challenging traditional dealer networks. [Photo/China Daily]
China's largest online shopping platform further extended its ambitious automotive plan to include a strategic partnership with local carmaker Lifan Auto despite many local carmakers facing a downturn in sales volume.
Alibaba will promote Lifan Auto's sales during large-scale events on dates including June 18, Nov 11 and Dec 12, and Lifan Auto will build a small-sized pure electric car model exclusively for the online platform. The two companies will also cooperate in car financing and after-sales services, according to a joint news release.
The chairman of Lifan Group, Yin Mingshan, said the cooperation with Alibaba would integrate the advantages of both parties, extend the carmaker's value chains and bring innovation to car sales channels.
Wang Licheng, general manager of the Alibaba automotive business unit, said, "Lifan Auto is the first strategic partner with the Alibaba online sales channel." The online platform is seeking to cooperate with more carmakers.
Wang said passenger car sales on the platform are expected to reach 1 million units this year, more than eight times the volume of last year.
The e-commerce giant has worked with carmakers and dealers to help increase car sales since December 2010. Last year, more than 300 models were offered by Alibaba through more than 30 carmakers and 8,000 dealers, with 120,000 units sold.
In the first five months of the year, the country's passenger car sales climbed 6.4 percent, and are forecast to achieve 7 percent sales volume growth this year, according to the China Association of Auto mobile Manufacturers.
Emerging business
IResearch Consulting Group analyst Cao Meichen wrote in a report: "Alibaba's e-commerce platform has accumulated a huge customer group, and claims that it is able to reach and influence about 60 million car owners. The massive customer base has laid a solid foundation for Alibaba's development in the car business."
Deloitte's China Auto Consulting Practice managing partner Marco Hecker said, "Internet companies have a whole new way of reaching customers and tracking users, which increases the interactions between customers and brands and finally helps customers make purchasing decisions.
"China's auto industry will need to become increasingly buyer-oriented. However, 90 percent of carmakers don't understand what customers really want. The mass of customer data provides insights on where, what, when and how, which provides invaluable insights for business strategy and decision-making."
Hecker said big data is an underutilized weapon in China's auto industry. Within big data, he said, are the answers to what models, accessories or services particular customer segments are interested in.