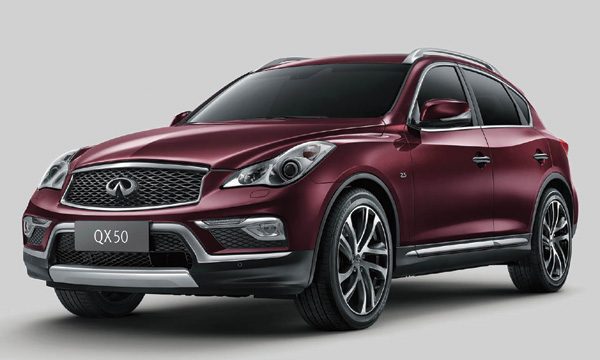 The QX50 SUV is expected to shake up the market and boost sales significantly. [Photo provided to China Daily]
Japanese luxury carmaker Infiniti hopes its locally made lineup and brand-building campaign will lay solid foundations for its mid-term plan in the Chinese market this year.
Daniel Kirchert, president of Dongfeng Infiniti Motor Co, said that the brand's two locally made models - the Q50L sedan and QX50 SUV - would shake up the market and boost sales significantly, which is "critical" to the company's mid-term China plan for 2018.
According to the plan, Infiniti aims to sell 100,000 cars in China annually by 2018, with locally made models expected to account for more than half.
The brand's sales in China soared by 76 percent to 30,046 units in 2014 from a year earlier.
Both the Q50L and QX50 are produced at Infiniti's parent company Nissan Motor Co and China's Dongfeng Motor Group in Xiangyang.
The Q50L hit the market in November last year to compete with the Audi A4L, BMW 3 Series and Mercedes-Benz C-Class.
The QX50 is due to go on sale in the first quarter of this year and will go head-to-head with the Audi Q5, BMW X3 and Mercedes-Benz GLK.
"We have great confidence that the two locally made models will help us grow sales rapidly this year," Kirchert told China Daily, without giving specific figures.
Infiniti was a latecomer to China but has ambitions to become the fourth main player in the luxury car market after Germany's Audi, BMW and Mercedes-Benz, which control nearly 80 percent of the Chinese market, according to Kirchert.
Lei Xin, executive vice-president of Dongfeng Infiniti, said young buyers' growing demand for "cutting-edge and personalized" products would bring great opportunities for the Japanese brand to grow rapidly.