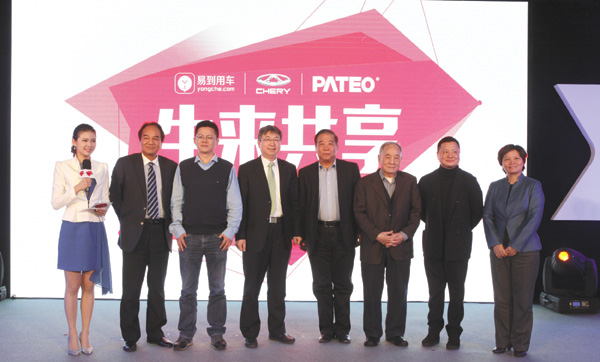 Yongche Inc, Chery Automobile Co and Pateo Corp established a joint venture to build fully electric smart cars for a car sharing service. Company leaders and guests are pictured at the news conference in Beijing on Feb 3, 2014. [Photo/Agencies]
Telematics, Internet, car firms join for new venture
Stainless steel "time capsules" containing paper scrolls were given out at a news conference to announce that three Chinese companies in telematics, Internet and car manufacturing had joined hands.
Internet car service platform Yongche Inc, domestic carmaker Chery Automobile Co and telematics company Pateo Corp established a joint venture to build fully electric smart cars, not for sale, but for a sharing service.
"The products are built for sharing through the Internet and will have no emissions," said Zhou Hang, founder and CEO of Yongche Inc, on Feb 3 at the news conference in Beijing.
He said the future products would be intelligent, connected, shared and fully electric and that the latest transportation solution would disrupt the conventional vehicle experience.
The smart cars will be designed to interact with the environment. The vehicles will use information from surrounding traffic conditions and react or provide information to the driver to make informed decisions, according to Steve Man, Bloomberg Intelligence Auto Analyst.
Other Chinese Internet companies have already moved into the automotive field. Baidu Inc joined hands with Shanghai General Motors Co in January to create the CarLife telematics platform.
In the same month, Leshi Holding (Beijing) Co announced plans for its smart, Internet-based electric car to use LeOS, after investing in electric car design and engineering company Atieva Inc in the summer last year.
The three companies in the new joint venture have worked in the auto market for years.
In 2010, Pateo Corp started to mass-produce its first automotive connectivity system for passenger cars and released the first generation iVoka system in 2011.