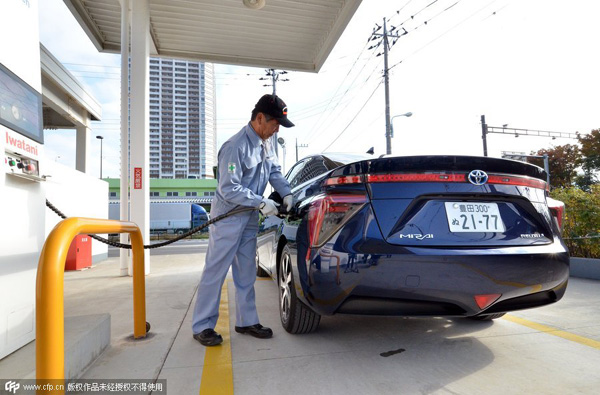 A worker refuels a Toyota Motor's fuel cell vehicle "Mirai", meaning future, at a hydrogen station in Tokyo, Nov 17, 2014. [Photo/CFP]
Japanese auto manufacturer Toyota plans to open access to more than 5,600 patents related to hydrogen fuel cells, a move expected to reshape the fuel cell vehicle sector, industry insiders said.
Toyota announced the plans at an international consumer electronics show in mid-January.
Niu Yu, a Toyota China spokesman, told China Business News that the company's fuel cell vehicles, or FCVs, and hybrid electric vehicles share a range of core technologies in motors and control systems.
Unlike Toyota's hybrid electric vehicles that have sold more than 7 million units worldwide, the company's FCVs still face a challenging market due to a shortage of infrastructure.
Opening-up the patents will help seek like-minded people in the FCV sector, reduce costs in R&D and production and promote the new type of clean energy-powered car, according to the company.
Compared to American electric carmaker Tesla, which announced plans to offer free use of its patents in June 2014, Toyota has set more restrictions, industry observers said.
Users need to file an application with Toyota and sign a contract for the patents.
Before the end of 2020, Toyota will offer use of the patents to automakers for free. These will include 1,970 patents related to fuel cells, about 290 concerning highpressured hydrogen storage and some 3,350 for control systems. After 2020, 70 patents concerning hydrogen refueling stations will remain free of charge.
The difference in patent opening-up policies between the two companies is closely linked to their competitiveness in patent portfolio and costs, Jia Jun, chief analyst at PatSnap, a patent research firm, told China Intellectual Property News.
Jia said Toyota's opening-up on the heel of the launch of its FCV Mirai last December had more influence than Tesla's smaller patent reservoir. Jia added that to further lower the hydrogen cell industry threshold, other carmakers with similar patents should follow suit, including Honda and General Motors.