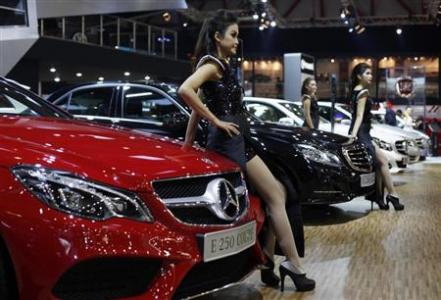 Models stand beside the Mercedes E250 Coupe during the 21st Indonesia International Motor Show (IIMS) in Jakarta, Sept 23, 2013. [Photo / Agencies] 
Mercedes-Benz plans to open a museum in Beijing to showcase the heritage of the brand, the luxury carmaker's latest bid to boost flagging sales in China where it is outsold two to one by Audi and BMW.
The museum will be the first by a foreign luxury carmaker in China and follows a series of attempts by Daimler-owned Mercedes to boost its performance in the country, including appointing an executive focused on the market and agreeing to buy a stake in its local partner.
"Daimler is looking at new ways to more frequently interact with the customer and get them excited about the Mercedes-Benz brand. A new museum is certainly a way to support that," said LBBW analyst Frank Biller.
Most German carmakers, including Mercedes, Porsche and BMW, have museums in their home market to show off their brands, which experts say can boost their appeal among potential buyers.
"Chinese consumers are extremely brand conscious and value those names that can display a rich tradition and long history," a spokesman for Daimler said on Monday.
The company did not give any details on the size or scope of the project, or when it might open.
More than 5 million people have visited the Mercedes-Benz Museum in Stuttgart since it opened in May 2006, it said.
Don't miss
Mercedes-Benz eyes positive progress in China
New Mercedes E-Class launched in Chengdu
Mercedes Benz plots growth in China
Chinese buyers pay more for Audi, BMW, Mercedes
Mercedes-Benz to outline strategic plan for China