New Mercedes E-Class launched in Chengdu
No other automobile brand has attached such great importance to the Chengdu Motor Show 2013 as Mercedes-Benz.
The three-pointed star is shining in China's most famous leisure city by displaying the strongest portfolio of the Mercedes-Benz family - Mercedes-Benz, smart and AMG.
The automaker's locally produced vehicles are also making a particularly big splash with new releases throughout the family.
Leading the way is the long-awaited new E-Class, which made its official launch at the show with two model offerings tailored specifically for the China market.
The new E-Class Sedan and E-Class Sport Sedan meet the increasingly diverse needs of Chinese consumers, and are available prices ranging from 443,000 yuan ($72,622) to 779,000 yuan.
Equipped with a host of high-end intelligent and efficient features, the E-Class Sedan and E-Class Sport Sedan represent a remarkable breakthrough in terms of quality and performance, and they have raised the bar for executive limousines in China.
Also launched were the latest C-Class Grand Edition, the most exhilarating C-Class ever, as well as the new GLK 4MATIC Dynamic High, and smart chocolate edition.
Demonstrating its confidence in the quality of its product, on Aug 30 Mercedes-Benz became the first automaker in the premium segment to launch a 3R (repair, replacement and return) policy in full compliance with the Chinese government's 3R legislation.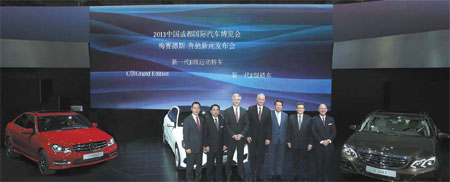 Mercedes-Benz hosted a press conference at Chengdu Motor Show 2013. [Photos Provided to China Daily]
Thanks to professional guidance and support from the General Administration of Quality Supervision, Inspection and Quarantine, Mercedes-Benz has developed an even more comprehensive 3R policy, which fully reflects the Mercedes-Benz after-sales brand philosophy "My Service".
The entire authorized Mercedes-Benz dealer network is now well-prepared to implement the new policy, which covers the automaker's entire passenger car portfolio (Mercedes-Benz, AMG and smart) and the entire range of Mercedes-Benz passenger car owners - both corporate and private.