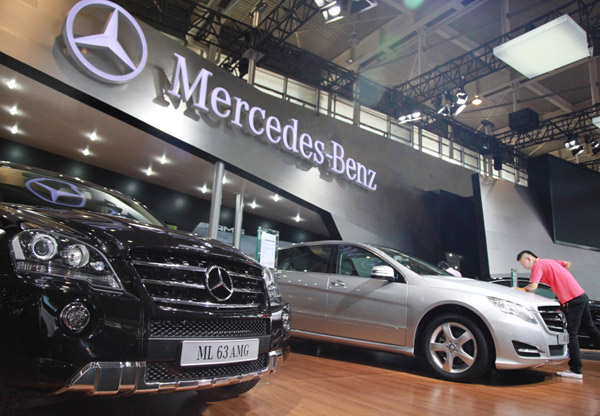 Daimler's Mercedes-Benz booth at the Nanjing International Auto Show in September. [Photo /
Provided to China Daily]
German automobile giant Daimler AG, which owns the Mercedes-Benz car brand, has established a special sales unit in its Stuttgart headquarters dedicated to growing vehicle sales in China, amid a slowdown in China's luxury car market.
The move comes after it integrated all sales activities for imported and locally produced passenger cars, under the umbrella of Beijing Mercedes-Benz Sales Service Co Ltd earlier this year.
The new unit will be headed by Bernhard Auer, a sales specialist who is highly experienced in China, who most recently managed Mercedes' rival Audi AG's sales operation on the Chinese mainland and Hong Kong.
Hubertus Troska, a member of Daimler's management board responsible for China, said: "We have made numerous measures to help our Chinese business over the past six months and there continue to proceed step by step.
"May saw a continuation of the positive sales trend from the previous months and we are keeping our foot on the gas together with the sales organization in Germany."
The company said in a statement that the new China unit had been set up at the company's central sales section in Stuttgart and is being named Sales Management China.
It will coordinate all passenger car sales functions relating to the Chinese market, which remains its most important passenger car market, and will be able to "serve the Chinese automobile market even more effectively".
The statement added that the new dedicated department is to address market requirements and specific needs of the Chinese business even more effectively and to provide colleagues in China with support from headquarters.
"Together with an expansion and rejuvenation of our product range, a decisive factor for our sustained success is the consistent development of our dealer network, among other things," said Troska.
"In this way we are continually opening up in cities and regions in which Mercedes-Benz has not previously had an adequate presence."
Troska previously told China Daily that the company plans to open 75 new dealerships in 2013, including those in 36 cities in which the brand previously had no presence at all.
"Mercedes-Benz will then have more than 300 dealers in China," he said.
He said the company will keep expanding its Mercedes dealer network in China by around 50 new sites a year, particularly away from the well-known mega-cities.
Statistics from the China Association of Automobile Manufacturers show that in the first quarter, domestic sales growth in the luxury vehicle segment - led by three German brands Audi, BMW and Mercedes-Benz - slowed to 4 percent, well below the 13 percent annual growth in the overall passenger car market.
The easing was blamed on the new Chinese leadership's guidelines on curbing public spending, especially on luxury items.