Demand for luxury goods in China spurs Burberry growth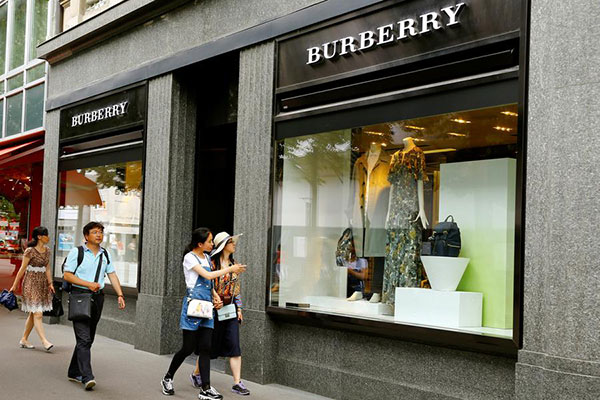 People walk past a shop of British luxury brand Burberry at the Bahnhofstrasse in Zurich, Switzerland July 12, 2017.[Photo/Agencies]
British luxury brand Burberry reported retail revenue of 478 million pounds ($613 million) during the quarter ending June 30, up 3 percent year-on-year.
Driven by this better than expected quarterly report, shares in Burberry climbed as much as 5 percent.
The result was attributed in part to solid growth on the Chinese mainland and a boost in Hong Kong sales. The broader Asia Pacific region recorded mid-single-digit percentage growth.
Sales in Britain remained strong, although growth has slowed, while the Americas remained weak.
In terms of sales channels, e-commerce experienced strong growth. Direct-to-consumer revenue continued to grow with mobile transactions now representing 40 percent of global sales. China revenues more than doubled compared to previous year.
Burberry attributed the strong performance in China to popular social media platforms such as WeChat which has more than 938 million users.
The company said its advertising campaign on WeChat for the launch of the new DK88 bag, which retails for 1,695 pounds, resulted in increased sales.
Other popular luxury brands including Longchamp and Mulberry also began selling handbags on WeChat in the Chinese market.
Consultancy Bain & Co said in a report that the Chinese mainland luxury goods market grew 4 percent in 2016, the first sign of revitalization in three years.
Due partly to a rebound in demand for luxury goods in China, industry leader LVMH and French luxury group Kering , which owns the Gucci and Yves Saint Laurent brands, both exceeded their forecast results in the quarter.