Mercedes sales improved in first half
Updated: 2013-07-08 07:42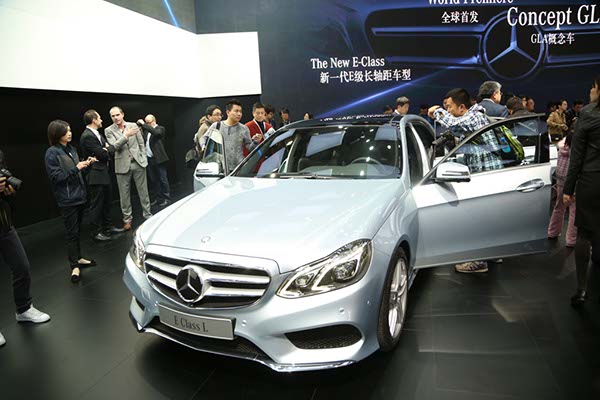 The all-new Mercedes E-Class Sedan at the Shanghai auto show in April. It is expected to hit the market next month in Chengdu.
New CEO focused on customers and market needs
Though Mercedes-Benz has recovered from the disappointing sales figures it saw in 2012, Nicholas Speeks, the new president and CEO of the company's China operations, is still not satisfied.
The establishment of the integrated Beijing Mercedes-Benz Sales Service Co Ltd in March has helped to turn things around, but the company has a long way to go, he said.
"We still have a lot of work to do, and we are working on the long journey day by day, step by step, as what we're doing in this country will determine the future of this company and this brand," Speeks said.
"It's highly important to have a solid foundation."
In 2012, the German premium brand sold 196,000 vehicles in China, its third-largest market. Though sales increased 1.5 percent from the previous year, it was only a fraction of the growth its main competitors saw at that time.
"That was a lesson for us that if you want to be successful in China, you have to focus on China - China's needs and China's customers. So we need a change," Speeks said.
"The most important thing is we have been trying to optimize our market approach, and pick up the pace on our sales front."
After the 54-year-old Englishman took over the sales company in March, the brand's local sales surged 10 percent year on year to 76,000 units in the past four months.
The positive trend continued in June as Mercedes delivered 20,000 cars to Chinese customers, an increase of 18 percent year on year.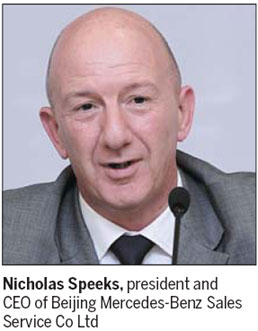 The sales growth indicated the success of the sales company, which integrates distribution channels of imported and locally produced products."It was set up in a very short time, formed by very young but talented, committed people with an average age of 34.
"Since its establishment, we have dedicated a lot of energy into the full integration of the Chinese and German parties. I believe that, as an integrated company, we are on a good track," Speeks said.
Focus on China
He said the Mercedes-Benz headquarters and its parent Daimler are giving strong support to the newly merged sales company.
"Starting this year, we have a board member of Daimler AG for China, Hubertus Troska, who is also chairman and CEO of Daimler Greater China," Speeks said. "I work closely with him and report to him. This means we have a voice in the China market at the top table at Daimler."