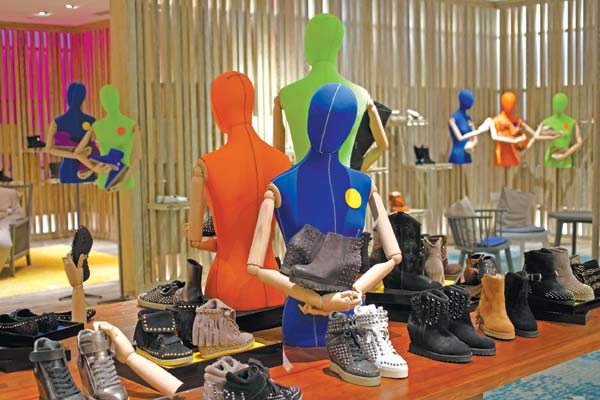 Lane Crawford in Shanghai (above) and Galeries Lafayette in Beijing (below), two world-famous department stores that have opened outlets on the Chinese mainland, in the hope of cashing in on the market potential in the world's second-largest economy. Gao Erqiang / China Daily
Retailers cater to Chinese customers' ever-increasing brand awareness, Zhao Xu reports
Take a stroll around one of Beijing's big shopping malls, especially those in the "stand-alone' or relatively "high-end" brackets, and unless you're a seasoned shopper, you may be surprised by the level of privacy available.
The shops are largely empty, especially on weekdays, and host a mere smattering of visitors who occasionally find themselves making slightly awkward eye contact with a sales assistant who has clearly been waiting for a customer.
With this in mind, it's little wonder that the recent openings of Galeries Lafayette in Beijing and Lane Crawford in Shanghai have raised a few eyebrows among industry observers.
The companies are dissimilar to an extent. Lafayette, the French company whose flagship store on Boulevard Haussmann in Paris is reportedly the second-most-visited site by Chinese tourists in the French capital - the first being the Eiffel Tower - has just one store in China.
However, Lane Crawford, the British-owned, Hong Kong-headquartered luxury retailer, has always seen Asia as its biggest market. Its new store in Shanghai, China's undisputed capital of fashion, marks its eighth opening in the country, with five outlets in Hong Kong and two in Beijing.
The flurry of major department or multi-brand store openings - including 10 by Corso Como, a cutting-edge Italian outfit that prides itself on a galvanizing mix of fashion, art and music - has dropped a stone into the otherwise ripple-free waters of the Chinese fashion market.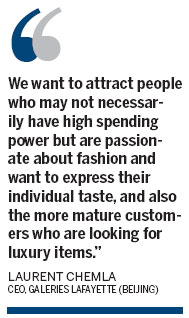 The issue lying at the center of the ripples' concentric circles is the long-term profitability of these projects and whether they can live up to their status as retail meccas by attracting Chinese consumers long after the initial excitement has cooled.
One of the strongest, oft-repeated theories behind the openings is that China, with its burgeoning middle class, represents the last stronghold - or possibly foothold - for high-end and luxury fashion retailers at a time when the rest of the world is blanching at the stratospheric prices commanded by designer dresses. As proof of that, the cash splashed around by avid Chinese consumers in Britain's high-end shops during the holiday season is famously and, perhaps grudgingly, known as the "Beijing pound".
According to a report issued in December by the US consultancy Bain & Co, people from the Chinese mainland have unseated US shoppers as the world's biggest buyers of luxury goods, and the two together accounted for 25 percent of global luxury sales through purchases at home and abroad.
A slowing market
But observers shouldn't be fooled by the apparent boom, according to Yu Kun, a veteran fashion editor at Cosmopolitan magazine. "China is expecting economic growth of 7.5 percent this year, the lowest for 23 years. There's a very visible slowdown in Chinese demand for luxury goods and expensive products in general," he said in reference to the closure of a number of high-profile department stores in major Chinese cities during the past few years, including several branches of Maison Mode, a name that at one time was synonymous with luxury fashion in Shanghai, and by extension the whole of China.
These setbacks haven't gone unnoticed by the recent arrivals. One clear solution for Lafayette is to reach out and reach down simultaneously.
"Of course, our selection for every Galeries Lafayette store in France and overseas includes luxury and high-end brands, but not only those items," said Chief Executive Laurent Chemla in Beijing. "Obviously, a large middle class is emerging in China and it has expressed a clear interest in trends, designers and new shopping experiences in general."
The man who masterminded the opening of the Beijing store described his price-positioning strategy as a "scissors approach"; "We want to attract people who may not necessarily have high spending power but are passionate about fashion and want to express their individual taste, and also the more mature customers who are looking for luxury items," he said.