China's central bank will continue with a prudent monetary policy in the second half of 2014 and will use monetary policy tools flexibly to maintain proper liquidity and achieve reasonable growth in total social financing, a central bank official said on Tuesday.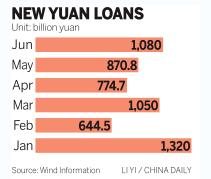 "The liquidity still remains within a reasonable range," said Sheng Songcheng, head of the statistics department of the People's Bank of China at a media briefing in Beijing. "Although it was abundant during the first half of the year, we will not tighten monetary policy in the second half."
The nation pumped more money into its financial system to lend support to the real economy. Growth in the total social financing aggregate and broadest measure of the money supply exceeded analysts' expectations in June.
Chinese banks issued 1.08 trillion yuan ($173.9 billion) of new yuan loans in June, the PBOC said on Tuesday. The figure was nearly 20 percent higher than market expectations.
Outstanding yuan loans hit 77.63 trillion yuan at the end of June, growing 14 percent from a year ago, while the total social financing aggregate swelled to 1.97 trillion yuan in June from 1.4 trillion yuan the month before.
M2, the broadest gauge of money supply, rose to 120.96 trillion yuan at the end of June, up 14.7 percent from a year earlier - the biggest jump since September 2013, the PBOC said in a statement on its website.
The central bank also devoted strong financial support to China's ongoing economic restructuring.
During the first half of the year, outstanding loans to micro and small enterprises reached 14.17 trillion yuan, up 15.7 percent from 2013. Outstanding medium- and long-term loans to the service sector increased 16.2 percent year-on-year, while those to the steel industry fell 8.9 percent.
The PBOC cut the reserve requirement ratio for certain banks twice in April and June with the aim of providing targeted support to weak but crucial links of the economy.
In response to calls for an overall RRR reduction by some economists and entrepreneurs, Sheng said: "The prudent direction of our monetary policy will not change after taking mini-stimulus measures. The key is to adjust the credit structure and tap into idle credit, rather than merely pursuing the easing of monetary aggregates."
Reuters contributed to this story.