Top 10 most valuable banking brands
The Industrial and Commercial Bank of China (ICBC) has surpassed its western peers to claim the title of the most valuable banking brand, according to British firm Brand Finance.
Already the world's biggest bank in terms of assets, ICBC is the first non-western bank to take the top spot in the brand category, after its brand value grew 32 percent year-on-year to $47.8 billion.
Altogether, the aggregate brand value of all Chinese banks in the Brand Finance Banking 500 reached as much as $258 billion, accounting for 24 percent of the total. United States banks accounted for 23 percent.
China Construction Bank (CCB) and Bank of China saw their brand value grow 17 percent and 13 percent respectively. The surge saw CCB come close to overtaking Well Fargo in second place.
The rising brand awareness comes after Chinese firms have accelerated outbound mergers and acquisitions over the past two years, with notable deals including ChemChina's acquisition of Syngenta and Haier Group's takeover of GE's home appliance division, Brand Finance noted in its report.
"Chinese banks are carried in the slipstream of its industrial giants as they grow and expand into international markets," Brand Finance chief executive David Haigh said.
According to the report, the ranking measures brand strength on a scale of 0 to 100 based on factors including financial performance, sustainability and emotional connection.
A recent study shows there is a "compelling link" between strong brands and stock market performance, Haigh said.
"Acknowledging and managing a company's intangible assets taps into the hidden value that lies within it."
Let's take a look at the world's top 10 most valuable banking brands.
10. Santander
Based: Spain
Brand value: $15.9 billion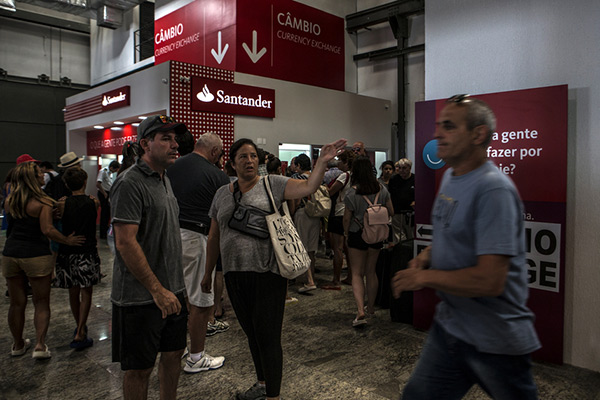 Tourists stand near a branch of Santander SA bank in Rio de Janeiro, Brazil. [Photo/VCG]