12 provincial regions vow to reduce excess coal production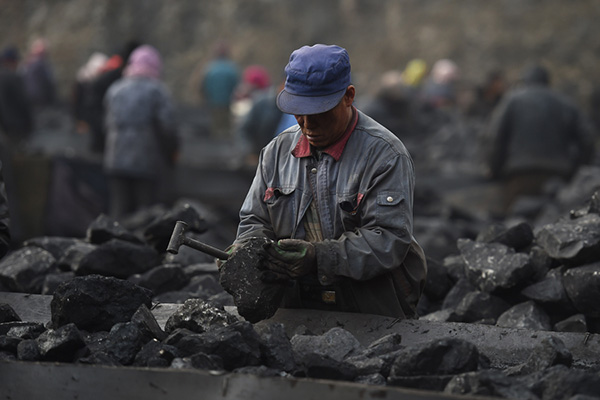 In this photo taken on November 20, 2015, a worker sorts coal on a conveyer belt, near a coal mine in Datong, North China's Shanxi province. [Photo/VCG]
A total of 12 provincial regions have unveiled targets to cut excess coal capacity in 2017, with Shanxi, Henan and Guizhou pleading the biggest reductions, China Securities Journal reported.
Both Shanxi and Henan provinces plan to reduce coal output by 20 million tons this year, while Guizhou vows to cut production capacity by 15 million tons. The remaining regions' goals all stand below 8 million tons, the newspaper said.
China will reduce steel production capacity this year by around 50 million tons and shut down at least 150 million tons of coal production facilities, Premier Li Keqiang said Sunday in the Government Work Report at the fifth session of the 12th National People's Congress.
At the same time, the government will suspend or eliminate no less than 50 million kilowatts of coal-fired power generation capacity.
The government pledges to make more use of market- and law-based methods to address the problems of "zombie enterprises," encourage enterprise mergers, restructuring, and bankruptcy liquidations, and shut down all outdated production facilities that fail to meet standards.
In 2016, the country reduced coal capacity by 290 million tons and steel capacity by 65 million tons, said the premier.
China will face a tough year to cut coal capacity in 2017, said Jiang Zhimin, vice-head of China National Coal Association. Last year, some of the coal mines involved in capacity cut were already idle or operating at half capacity, so it's easy to achieve the goal. However, the coal mines involved this year are all running at normal capacity, said Jiang.
Furthermore, the resettlement of laid-off workers will be a difficult task for the government, Jiang added.
The country will shut down 500 million tons of coal capacity and consolidate another 500 million tons into the hands of fewer but more efficient mine operators in the next three to five years, according to a guideline issued by the State Council.