Coal's decline looking like trend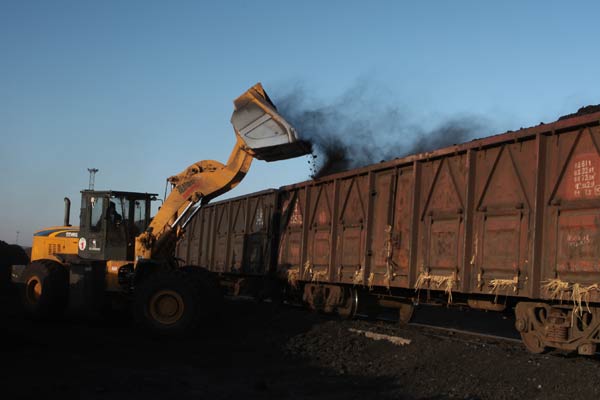 Coal is loaded for railway transportation in Tongliao, Inner Mongolia autonomous region. [Photo/Xinhua]
The decline of China's coal usage may have become a long-term trend, according to experts, after official data on Tuesday showed that coal burning in 2016 dropped for the third consecutive year.
Coal consumption, a major source for carbon dioxide emissions, dropped by 4.7 percent in 2016, the biggest year-on-year decline since 2014, according to the annual Statistical Communique on Economic and Social Development, released by the National Bureau of Statistics.
Xie Zhenhua, China's special representative for climate change, told China Daily in January that he believed China would fulfill its carbon emission pledges "on time", but it might be too early to say the nation has accomplished its goal.
China is aiming to reach a peak in its carbon dioxide emissions around 2030, according to pledges it made in the landmark UN Paris climate agreement, which came into force last year.
Although the government has yet to make any official announcement, experts and economists expect the trend will continue, leading to carbon emissions peaking earlier than expected.
The former administrator of the Chinese National Energy Administration, Zhang Guobao, wrote in July that coal consumption has peaked, adding that it should be announced publicly.
Fossil fuel demand would naturally shrink after the nation's economy begins to rely more on the service sector, whose energy consumption and pollution levels are lower, according to Hu Angang, an economics professor at Tsinghua University.
Hu said the decline is irreversible, as the nation puts more emphasis on environmental protection. He noted that China accomplished its first year's goal on time, as set out in the 13th Five-Year Plan (2016-20).
A total of 10 major environmental targets have been set in the plan, in areas such as energy consumption per unit of GDP and emission levels of CO2 per unit of GDP.
China failed to accomplish its yearly goals on time during the previous five-year plan, according to Hu.
Lin Boqiang, head of China Institute for Energy Policy Studies at Xiamen University, said the energy system would continue to decarbonize, and the share of coal in China's energy mix will shrink.
Coal's share has fallen to 62 percent in 2016 from 64 percent in 2015, and the nation produced 9 percent less coal in 2016 than in 2015, the communique said.
Yang Fuqiang, a senior analyst at the Natural Resources Defense Council, said fossil fuels will continue play a large role in order to achieve economic goals, and coal consumption would shrink at a slower pace.