Tianjin port applies brakes to coal truck transport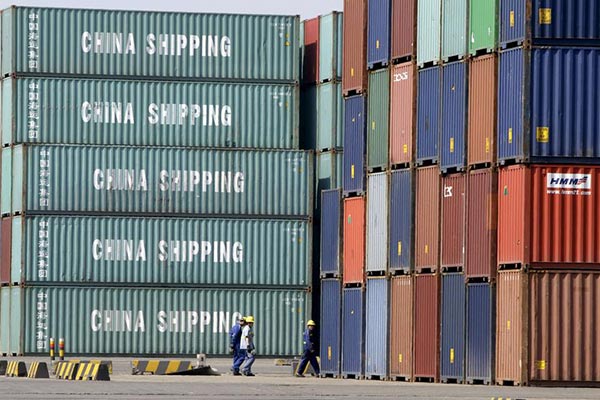 Workers walk past containers at Tianjin Port in this May 13, 2010 file picture. [Photo/Agencies]
Tianjin port, one of the country's busiest, will apply the brakes to coal transportation by trucks from the second half of this year, to alleviate pollution caused by diesel-powered trucks and coal consumption, its mayor said.
To ease pollution that has shrouded large regions of northern China in recent years, starting July coal handled by the port will be transported by rail instead of diesel-fueled trucks, Mayor Wang Dongfeng said.
The measures are meant to lower diesel-powered truck transportation and reduce coal usage, Wang added.
The annual coal throughput of the port is around 100 million metric tons. Most coal products are shipped from inland coal-producing regions to the harbor by diesel-driven trucks, which have added to air pollution. From there, the coal products are shipped to users in southern China for power generation.
The port is now applying for permission to build more railway lines for transporting coal, according to the port authority. Local media reported the port was in talks with other neighboring ports in Hebei province to cooperate in coal transportation.
Coal business in Tianjin port will be diverted to Tangshan in Hebei by July, a source close to the environmental authorities said.
Beijing-based analyst Zhang Min said the measures would help China's northern regions battle pollution.
Once implemented, the policy would increase cost for coal companies and some might resort to using other ports, Zhang said.
Zheng Yiran and Sun Ruisheng contributed to this story.