HNA buys key stake in German airport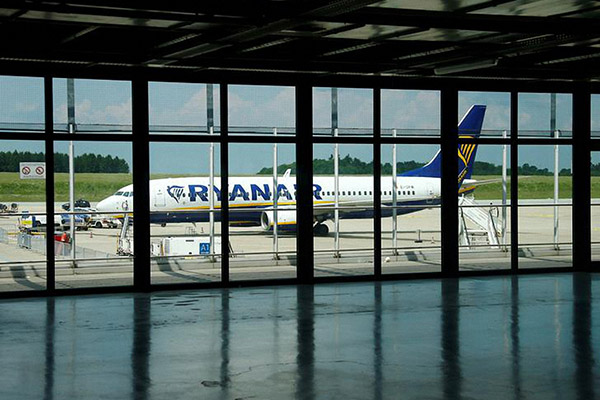 A Ryanair aircraft parks on the tarmac of Frankfurt Hahn airport 100 kilometers (60 miles) west of Frankfurt, Germany, June 6, 2016. [Photo/Agencies]
Move is latest in series of acquisitions by group to step up global expansion
Chinese conglomerate HNA Group has acquired a majority 82.5 percent stake in Hahn airport in western Germany, its owner, the state government of Rheinland-Pfalz, said in a statement on Wednesday.
This is the first acquisition of an overseas airport by HNA, the parent of China's biggest private commercial airline.
It is also the latest in a succession of acquisitions mounted by the company of various international assets, in order to step up its global expansion.
The statement did not disclose the financial details of the deal for Hahn, a former military base now mainly used by budget carrier Ryanair.
A source familiar with the matter said the purchase price was around 15 million euros ($16 million), Reuters reported.
Hahn airport, located 120 kilometers from Frankfurt, is the second-biggest airport in the city and it has been losing money in recent years. In 2015, it lost around $17 million.
The state government said in the statement that it had decided to greenlight the sale of the state's 82.5 percent stake in the airport and it would now move forward on signing the contract.
The remaining stake in the airport is owned by the neighboring state of Hesse.
"It's hard to understand and comment on the plan and intentions behind HNA's acquisition of a foreign airport," said Zou Jianjun, a professor of the department of economic management at the Civil Aviation Management Institute of China.
He said that unlike airlines, there was generally little short term potential to turn a loss-making airport into profits and there were very few Chinese airlines acquiring overseas airports.
Differing from Frankfurt airport, Hahn has a license to operate 24 hours a day, which is an attractive feature for cargo flights. The freight volumes of Hahn airport make it the fifth busiest in Germany.
HNA had made a bid for the acquisition-together with several other bidders such as local German group ADC-and appears to have won out due to its rich overseas investment experience.
Last year, it was reported that Shanghai Yiqian Trading Co was in the frame to buy the airport for $10 million, but the deal was blocked by the local German government.
HNA's international business now spans aviation, finance, real estate, logistics, hospitality, tourism and ecological technology.