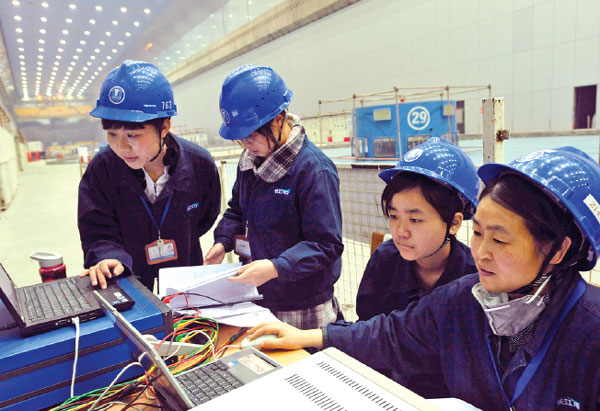 Technicians check the protection mechanism of the underground power unit of Three Gorges Dam. On Aug 26, China Three Gorges Corp launched its first corporate green bonds in two tranches for 5 billion yuan in all. [Photo/Xinhua]
Issuances to reach 300 billion yuan by year-end, the world's largest
China Three Gorges Corp's first corporate green bonds constituted the country's largest green bond issuance so far. Green financing has been growing fast in China of late, although it emerged only in recent years.
The company's issue, launched on Aug 26, comprised one tranche of 3.5 billion yuan, three-year term notes and one tranche of 1.5 billion yuan, 10-year term notes.
Demand for green bonds is rising as China aspires to become more environmentally friendly and will tap the capital market for funds.
Green bonds help fund projects that benefit environment and climate: carbon-reduction programs, air quality improvement systems, renewable power generation.
Such ventures are getting increasingly popular among investors and bond issuers in China.
The timing also appears to be just right for the green bond market to develop in China. The country is making efforts to transform its economic growth pattern so it could make more with less, said analysts.
China's market has great potential for developing green bonds given its significant size of bond issuances. It is likely to become one of the major green bond markets worldwide, considering the country's commitment to improve environment and develop in climate-friendly ways, said Wang Ping, deputy managing director of China Central Depository and Clearing Co Ltd.
According to Tang Weiqi, researcher with Industrial Research and Consultancy Co Ltd, the combined size of Chinese green bonds issued in the first half of the year reached 58 billion yuan, or 80 percent of the world's total, and is bigger than that in any other economy globally.
The pace of issuance accelerated in the second half of the year. It is expected that the total size of green bonds in China this year will reach 300 billion yuan, to be issued by not just private banks but other players like State-owned banks, brokerages and enterprises.
"Amid the fast growth of issuances, China's green bond market will see decreasing fundraising cost and more participants, and China will have more impact on the global green bond market than other countries," said Tang.
In July, New Development Bank issued its first renminbi-denominated green financial bond of 3 billion yuan, the first of its kind issued by an international financial institution. Total subscription exceeded 9 billion yuan, a cover ratio of 3.1, reflecting great interest from international investors.
More corporate bonds like that issued by China Three Gorges Corp will be offered in China, according to Zhang Qing, deputy head of the China Securities Regulatory Commission's arm that controls the corporate bond market.
Currently, approvals are pending for 12 players' 13 green corporate bond issuances or green asset-backed bonds with a total size of 35 billion yuan. The applications were made by mid-August, according to Zhang.