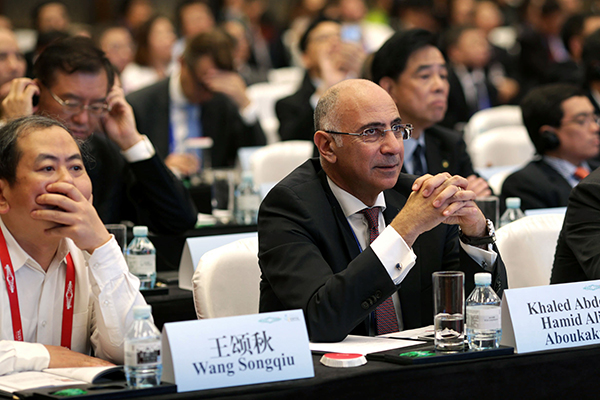 Representatives attend the opening ceremony of the G20 Energy Ministerial Meeting on June 29 in Beijing. [Photo/Xinhua]
China prepares to play increasingly important role in non-fossil-fuel power generation
At their meeting in Beijing in June, energy ministers from G20 members emphasized the significant role of clean and renewable energy, and they will present their official communique to the G20 Summit for the consideration of global leaders.
"We encourage members to facilitate investment in renewable energy production and use through reducing barriers and risks, taking full consideration of the available indigenous renewable energy sources, increasing substantially the share of renewable energy in the global energy mix," according to the Beijing Communique of the G20 Energy Ministerial Meeting.
Last year, the global energy market was unstable as a result of a complicated global economy and weak demand that have resulted in declines in the price of crude oil.
However, clean and renewable energy have been developing well, and with sustainable growth. Nuclear power has also started to recover globally, as the public regains confidence in the power source.
In their communique, the ministers said, "for countries which opt to use nuclear energy, it contributes to the reduction of greenhouse gas emissions".
The G20 energy ministers called upon all countries that choose to use nuclear power to ensure the highest safety standards, and to exchange their expertise and experience.
Meanwhile, "it is important to engage the public in science-based dialogue and transparency to inform policymaking," according to the communique.
In addition to nuclear power, which has shown slight growth, the use of renewable power has risen steadily as well.
According to the Blue Book of World Energy 2016, compiled by the Chinese Academy of Social Sciences, the world's installed wind-power generation capacity grew by 17.2 percent last year, a 16.4 percent rise from 2014. Moreover, China accounted for 51.8 percent of the world's newly installed wind-power generation capacity, which emphasized the country's leading role in expanding the use of clean power and reducing emissions.
Huang Xiaoyong, president of the CASS Graduate School, said the development of clean and renewable energy will not lose momentum, despite competition from cheap oil.
"As the technology improves, energy utilization will develop in a clean and highly efficient direction, which is not only decided by the quality of resources or investment, but also a technology revolution," he said. "We are all waiting for a great opportunity, and it will require closer international cooperation."