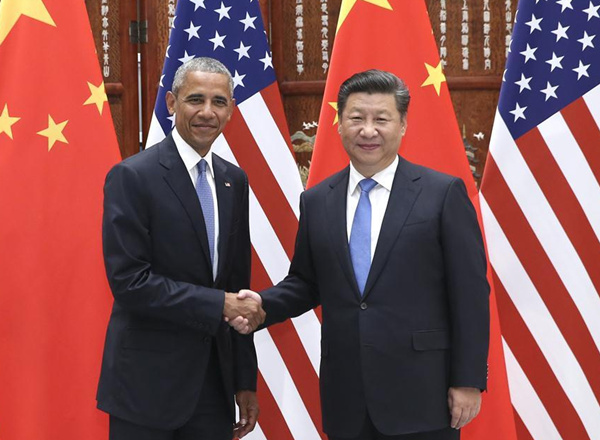 Chinese President Xi Jinping (right) meets with US President Barack Obama, who is here to attend the G20 summit, in Hangzhou, capital city of east China's Zhejiang Province, Sept 3, 2016. [Photo/Xinhua]
HANGZHOU -- Chinese President Xi Jinping on Saturday said China is willing to work with the United States to ensure bilateral ties stay on the right track.
Xi made the remarks in a meeting with his US counterpart Barack Obama in the eastern city of Hangzhou on the eve of the G20 summit.
He urged the two countries to follow the principles of non-conflict, non-confrontation, mutual respect and win-win cooperation, deepen mutual trust and collaboration, and manage and control their differences in a constructive manner, in order to push forward continuous, sound and stable development of bilateral ties.
Noting that the city of Hangzhou holds historic significance to Sino-US relations, Xi spoke highly of his previous meetings with Obama since 2013, which "produced important consensus."
In particular, the decision to build a new type of major-country relations between China and the United States has led to a series of concrete achievements in bilateral ties, Xi said.
Two-way trade, investment and personnel exchanges are at historical highs, he said, and both countries have worked together in combating climate change, advancing negotiations on a bilateral investment treaty, and establishing a mutual trust mechanism between the two militaries.
Important progress was also made in fighting cyber crimes, coping with the Ebola epidemic in Africa, and facilitating a comprehensive agreement on the Iranian nuclear issue, Xi said.
"All these have showcased the strategic importance and global influence of Sino-US relations," the Chinese president said.
Xi said China and the United States have carried out fruitful cooperation under the G20 framework, and the two sides have maintained close coordination and communication with regard to the preparation of the G20 Hangzhou summit.
China appreciates the cooperation and support from the US side, he said, adding that holding a successful summit is the global community's shared expectation, as well as the due responsibility of China and the United States as the world's two largest economies.
He said China hopes to work with the United States and other parties to achieve fruitful results during the summit to inject momentum to the global economy while lifting confidence.