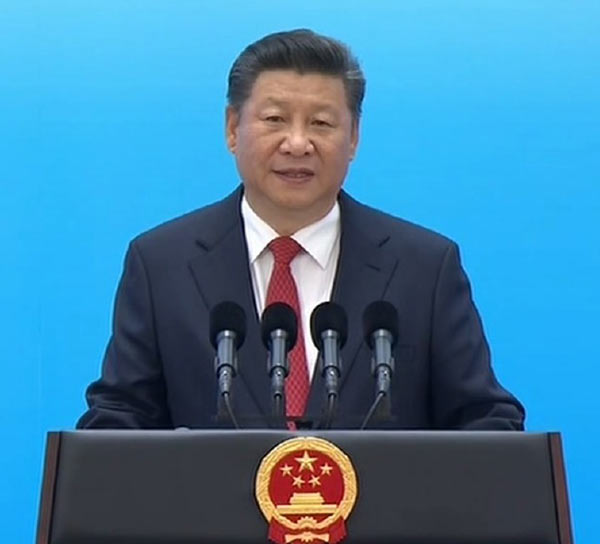 Chinese President Xi Jinping delivers a speech at the B20 summit in Hangzhou, Zhejiang province on September 3, 2016. [Photo/Screenshot]
HANGZHOU - Delivering a keynote speech on Saturday at the Business 20 (B20) summit in Hangzhou, Chinese President Xi Jinping called China's reform and opening-up a great process.
Firstly, it is a process of exploration. There has been no precedent in human history for a country with a population of over 1.3 billion to realize modernization, he said.
Secondly, it is a process of action and hard work. China has been firmly taking economic contruction as the center, he said.
Thirdly, it is a process of common prosperity. Development for the people, by the people and to the benefit of the people - is the fundamental purpose of China's reform and opening-up and its modernization drive.
Lastly, it is a process during which China has been walking towards the world and the world has been walking to China, said the president.  
China confident, capable of keeping growth at medium-high speed
China stands at a new historical starting point today. This is a starting point for China to develop a comprehensively deepening reform, to continuously push forward economic and social development, to adjust to new normal by transforming development mode, to continuously be open to and have an in-depth interaction with the world.
China has confidence and is capable of keeping growth at a medium to high speed and can bring more opportunity to the world when China develops itself.
China will unswervingly carry on a comprehensive reform and exploit a more promising future. China has developed a new normal economy. It is the only route for China's economy to evolve into more advanced pattern, more rational structure and more optimized division of labor.
China must carry out reforms if it wants growth at a medium to high speed. Such growth is not possible if China follows the beaten track. China will lose great opportunity if it is afraid to step out. The direction of China's reform is clear and will not change. China will march forward courageously without hesitation.
China's reform have entered a difficult time. But China has to see the reform to the end with courage and determination. China will continuously push forward supply-side structural reform, solve the main contradiction in the current economic development, improve the quality and efficiency of supply system by optimizing the allocation of production factors and adjusting industrial structure, stimulate market's vitality and balanced development.
China will adhere to the system and mechanism of innovation, breaks the existing pattern of interests, promote the rule of law in an all-around way, allow market play a decisive role in the resources allocation and let government better play its role.
China stands at new starting point
China is standing at a new starting point for comprehensively deepening reform and injecting new impetus in economic and social development, adapting to the new normal of economic development and transforming economic development mode, as well as deeply interacting with the world.
China is confident and capable of keeping growth at medium-high speed and continuing to provide the world with more development opportunities while realizing its own development.
Proceeding from this new starting point, China will unswervingly deepen reform in a comprehensive manner, implement innovation-driven development strategy, pursue green development, deliver more benefits to the people and further open up to the world.
G20 makes breakthroughs in building inclusive global economy
The G20 for the first time puts development issue at the center of global macro policy framework this year.
It is also the first time that the G20 makes an action plan to implement the 2030 Agenda for Sustainable Development and cooperates to support the industrialization of African countries and least developed countries.
China will implement strategy of innovation-driven development
With a new starting point, China will take an unshakable stand to implement a strategy of innovation-driven development, releasing stronger momentum of growth. Seizing technological innovation is a key step in achieving development.
As the economic growth and expansion modes that mainly rely on the inputs of resources, capital and labor are not sustainable, China's development is facing arduous tasks of power conversion, transformation and restructuring.
To build an innovative country and a global scientific and technological power is an urgent requirement and the only way for China's development.