Chinese President Xi Jinping delivers a speech at the B20 summit in Hangzhou, Zhejiang province on September 3, 2016. [Photo/Xu Jingxing]
China's opening drive is "not a pursuit to establish its own sphere of influence", but to support the common development of all countries, President Xi Jinping told global business leaders on Saturday.
"It is meant to build not China's backyard garden, but a garden shared by all countries," Xi said in his keynote speech during the open ceremony of the Business 20 (B20) summit in Hangzhou.
More than 1,100 prominent businesspeople from the G20 members and guest countries, attended the open ceremony. The two-day B20 summit is held a day ahead of the Group of 20 (G20) summit.
Xi said China's new mechanisms and initiatives were "not intended to reinvent the wheels or target any other country", but to improve the current global mechanisms to achieve common development.
Raising the Belt and Road Initiative as an example, Xi said China's development had benefited the world and that the country was ready to provide more public goods to the international community.
The Belt and Road Initiative, proposed by Xi in 2013, began to take shape in 2014 with a focus on infrastructure.
The G20 major economies should aim at the development enjoyed by all countries and peoples, Xi said, adding that the G20 belonged not only to its members but also the whole world.
"We want all people, especially those in developing countries, to enjoy a better life day by day," he said.
China has invited the largest number of developing countries to this year's G20 activities.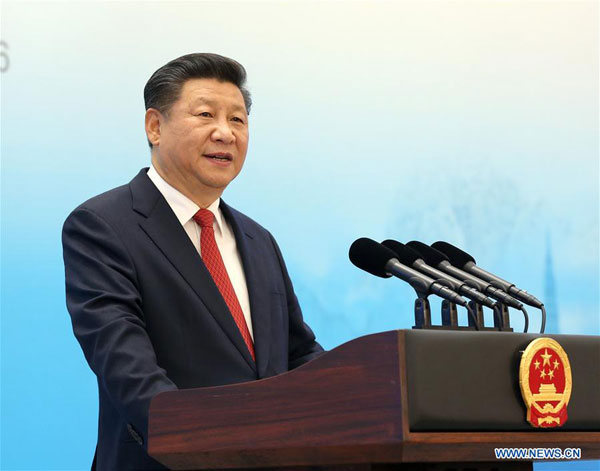 Chinese President Xi Jinping delivers a speech at the B20 summit in Hangzhou, Zhejiang province on September 3, 2016. [Photo/Xinhua]