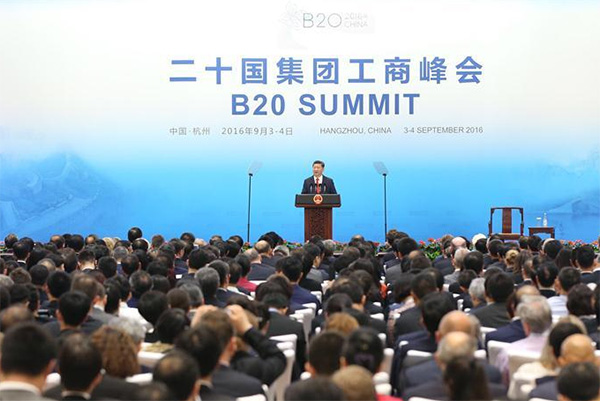 Chinese President Xi Jinping delivers a keynote speech at the Business 20 (B20) summit in Hangzhou, capital of east China's Zhejiang Province, Sept. 3, 2016. [Photo/Xinhua]
China will implement a strategy of innovation-driven development to play the role of innovation as the first power, endeavoring to achieve the transformation from growth in quantity to improvement in quality.
China will promote all-dimensional, multi-tiered and wide-ranging innovations in development ideas, system mechanisms and business models, achieving a fundamental change in endogenous dynamics and vitality of promoting development.
China will strive to take the lead in making breakthroughs in major projects and directions, actively leading the implementation of international major scientific plans and projects.
China will deeply study and solve technology problems in the economic and industrial developments, focusing on promoting mode transformation and structure adjustment, building a modern industrial system, fostering strategic emerging industries, and developing modern service industry to promote the transformation of scientific and technological achievements, to promote the industry and the products to upgrade to the high end of industrial chain, and to create more leading developments that rely on innovation driven and have the first mover advantages.
China vows more efforts in economic globalization and trade
China will continue to participate in the process of economic globalization and support multilateral trade. The country will relax the restrictions to foreign investments and increase facilitation to improve fair competition and create good business circumstances with all our efforts.
Meanwhile, China will speed up the signing of free trade agreements and investment treaties with countries and accelerate the setting up of domestic free trade zones. We will continue to promote the internationalization of renminbi and improve the globalization of financial industry.
China's development benefits from the international community and China is willing to provide more goods to the international community. The Belt and Road Initiatives will share the opportunities of growth with the countries along the belt and road. The related projects have obtained essential development. The Asian Infrastructure Investment Bank is playing a positive role in regional infrastructure construction.
China committed to green development
Xi stressed the importance of environmental protection, saying: "To protect environment is to protect productivity."
The government will unswervingly implement the strategy of sustainable development and be committed to green, low carbon and circular development, while adhering to the basic national policy of resource conservation and environmental protection.
The move to promote green development also serves as China's active response to climate changes and overcapacity.
China aims to reduce water use, energy consumption, and CO2 emissions per unit of domestic gross product (GDP) by 23 percent, 15 percent and 18 percent respectively in the next five years.
Meanwhile, it will cut crude steel output by another 100 million to 150 million tons in the next five years, and close coal mines with around 500 million tons of capacity and cut another 500 million tons of capacity through coal mine restructuring in the next three to five years.